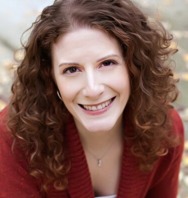 Red-Slice is an energetic and inspirational site full of stories, strategies and expertise on branding and marketing. Maria Ross, creator of Red-Slice, took the time to talk with us about her site and the importance of branding. Not only is Maria a branding and marketing expert, but she is also author of Branding Basics for Small Business and Rebooting My Brain and an actress. She shares with us her insight on branding for success and thoughts on philanthropy and giving back to the community, something high on her list of priorities.
Hey, Maria! Can you share with us a bit about Red Slice – I love the vibe from it!
Red Slice is a brand consultancy but online; it's really what I like to call a "digital sandbox" of stories and strategies to help brands (or people) tell their stories. I offer advice about attracting your target audience, standing out from the crowd and growing your business. When I work with clients or do workshops, it's about figuring out what your story is, why it matters and how it's different from the rest. This is the key to successful branding. Red Slice targets entrepreneurs and small- to mid-sized businesses ranging from authors to consultants to tech start-ups. Really, we're a community of people building brands they are passionate about that mean so much more than just the products or services they sell.
Speaking of vibe, how important is that for branding and marketing?
Very important. "Brand" means so much more than just a logo (a common misconception). It's your core, your essence, your reputation. Articulating and being clear about that vibe is what informs your visual design, your copy and even the offerings you deliver to the market. If your company vibe is "hip and cool" but your products are dated and boring, it's a mismatch. The vibe has to be authentic, meaning you have to be able to deliver what you promise.
Tell us a little about your books – Branding Basics for Small Business and Rebooting my Brain.
I just launched the 2nd updated edition of Branding Basics for Small Business: How to Create an Irresistible Brand on Any Budget and was so excited to offer fresh case studies, interviews and advice on how to create a winning brand, whether you are an individual, small business or non-profit. The book offers a 10-question process that is the basis of my client work so people can clearly articulate their own brand strategy step by step, and then I show them how to bring that brand to life. Case studies from successful, fun and differentiated brands offer real-world examples of how people have done it – without breaking the bank!
Rebooting My Brain: How a Freak Aneurysm Reframed My Life is not a business book at all! It's the humorous and heartwarming journey of my recovery from a near-fatal brain aneurysm right after I started my business and shares lessons on how you can overcome any type of crisis to get back on your feet again. It's actually very popular with entrepreneurs as well, since the main lessons could apply to your business as well as your life!
How important is marketing to the right audience?
Well, it's everything! If you're not marketing to the right audience, you're wasting your time and money talking to people who don't care or need what you have to sell.
A great website seems to be crucial these days. Can a company get by without one?
I used to think so, based on who they were targeting. For example, my 80+-year-old parents couldn't care less if a company has a website or not, so if you're trying to sell to them, it wouldn't matter. And I know a few successful consultants who work solely by referral and never took the time to create a website, but they are the exception. But I don't believe this anymore. The first place people go to check out a company these days is online. And if you don't have a website (and a current, functioning one), people assume you are not stable, trustworthy or legitimate. It says something about your brand. I never trust any business or person who doesn't even have a website, simply because they are so easy to set up, I wonder why they wouldn't put something up there, even a splash page with contact info.
Same for social media – what are some things any business should be doing here?
You can't give blanket advice here (don't trust people who do!), as it all depends on your target market and which social media platforms you should be using. Each platform has its own rules and vibe. I guess the best advice I would give is don't try to be on all of them at once (you won't do it well). Figure out exactly which platforms are the best fit for you and your target audience, stick with only two or three and learn them really well. Don't just jump in blind! First, listen to the conversations, get a sense of the tone, learn the etiquette and then start engaging with people on that social media channel in the right way. Gary Vaynerchuk's book Jab, Jab, Jab, Right Hook is an excellent resource that outlines the rules and best practices for each social media channel so you can just read the chapters that pertain to you.
Love your involvement in giving back to the community; can you share your thoughts on this?
My brand stands for a social element, and that was a deliberate choice. I believe that with great success comes great responsibility to do good with that success. So when my business does well, I give back to causes I support. I believe companies can change their role in our society and be a force for good and for giving back. Not only is it good for the community, but if you have to be selfish about it, it's also good for your brand and image (although people will see through you if you're only doing it as a marketing gimmick!).
What's next for you?
Right now, I'm focused on my current clients (not accepting any more for the rest of the year) and promoting the 2nd edition of Branding Basics for Small Business because I truly believe (and have heard from fans) that it's a powerful – and entertaining – resource! I'm also working on doing some splashy promotion for my current digital self-study course, Brand Bootcamp, which people have found so helpful to creating an irresistible brand. Based on what my community needs, I'm developing some other juicy virtual programs for 2015, so stay tuned! The best way to get great free advice and find out about new workshops coming up is to sign up for my email list, The Juice, in the sidebar at Red-Slice.com!