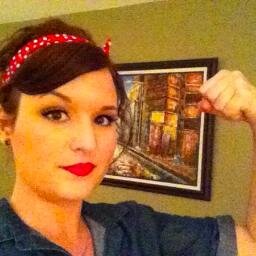 These days, there's no such thing as balancing SEO with high-quality content, says Kari DePhillips, co-owner of The Content Factory.
"High-quality content is SEO, and there's no other way around it," she says.
Google's algorithms have gotten a lot smarter, and the search engine will not show your content love if readers don't love your content.
"Search engines are like Gods of the Internet, and they see everything – including when people bounce right off of your page, never link to it, and don't interact with any of the links in your content," Kari adds. "You know that social media blog plugin that shows your latest post got zero Facebook shares? Google doesn't need a plugin to know that and to judge your content accordingly."
And because all of these factor into SEO, the only way to game the system is to create high-quality content and market the hell out of it, the former online copywriter says.
Kari was kind enough to chat with us about her digital PR expertise. Read on to get cost-effective marketing tips, advice for making shareable content, and insight on the future of online marketing.
Tell us about The Content Factory…when and why did you start your business?
My business partner, Joan Barrett, and I started TCF in 2010. I had a background in advertising and had gotten into online copywriting, and had more work than I could handle by myself. I recognized an opportunity there and wanted to create my an online marketing agency, but I knew I didn't have the bandwidth to handle everything on my own.
Joan and I have been friends since our first year in college, and I knew that we could work well together – specifically, that her strengths would pair well with my weaknesses and vice versa. I told her about my idea, and two months later she'd quit her job and we were in business.
What sets you apart from other PR agencies?
We count SEO results as "earned media" and part of the PR process. If increasing brand visibility is the overall goal, SEO is a great way to help accomplish it, and it's something we focus on for our clients. This is probably because of my background in online copywriting – SEO has been the focus of my job for the last decade, and integrating that into everyday PR efforts sets us apart from most other agencies.
Also, we take Bitcoin (and have several Bitcoin-based clients on our roster).
You say you offer clever solutions to problems most people don't know exist…so what are the most common PR or marketing problems you find businesses aren't aware of?
By far, SEO. It's not enough to have a great-looking website – if it's not properly optimized for search, few people are ever going to see it.
What do you think are some of the most cost-effective marketing and PR tactics for small businesses and startups?
The best thing business owners can do to get their companies free media coverage is subscribe to HARO emails, which puts journalists in touch with expert sources for their stories. About a year ago, we responded to a HARO query and it turned into an entire Today show segment featuring the client we pitched – the ad value equivalent for that is millions of dollars. I've been interviewed live on CNN and Fox Business thanks to HARO, and there isn't a week that goes by that one of our clients doesn't secure some sort of media coverage via HARO.
Also, using Twitter as a PR tool. This isn't something small businesses even need an agency for – they just need a Twitter account and a decent strategy. Here's a quick outline of something that any small business owner can do:
1. Set up a Twitter account; manage it through Hootsuite.
2. Create separate Twitter lists for:
reporters who cover your industry (national)
reporters who cover your industry (local)
industry thought leaders and tastemakers
complementary, non-competing businesses
3. Add these lists to your Hootsuite streams.
4. Monitor these lists and make a point of thoughtfully interacting with tweets from each list every day.
5. Profit – you'll get interview requests, build valuable (and sometimes profitable) relationships, expert advice, etc.
We've used this method to get clients featured in Wired, Business Insider, Huffington Post, and many others. Social media is about relationship building, and Twitter lists make it easy and almost automatic.
What do you think makes for compelling, shareable online content?
Answers the question (and has actionable information)
Is moving (there are several companies doing a great job of brand storytelling lately)
Is funny (this is only relevant if it ties in with your target market)
If you're going the "educate your audience to provide value" route, focus on the problems of your customer base and solve them with clear, actionable content – this shows you're an expert, increases sharing potential, and creates value for your target market. Obviously, you want to work keywords in along the way – but the primary goal should be to inform the reader, not stuff keywords into the text so Google shows you more love.
What are your biggest online content pet peeves?
When an article is all fluff and doesn't deliver on the promise of the title. There's nothing worse than clicking a link and expecting one thing, only to get a sloppy pitch for a product/service instead.
What advice can you offer startups and small business owners on developing a social media strategy?
Use Twitter lists; they're a huge help. Add value to conversations; don't just repeat what somebody else came up with. For instance, instead of just linking to an article using its title, mention what you found valuable in it (or surprising, or whatever…just add your unique perspective). You'll get more engagement and get to know your audience better.
What have been some of your favorite recent digital PR or marketing campaigns? What excites you about them?
Companies like Warby Parker and Tom's shoes are showing that being socially responsible and profitable are not mutually exclusive. Social media is great for connecting with potential business prospects and old friends from high school, but it also opens you up to a world that you'd otherwise never interact with. As technology evolves and businesses get more efficient, solving – or at least, putting a dent in – larger problems (like poor children who don't have any shoes) becomes more and more possible.
What do you think is the future for digital marketing?
Because consumers are more accessible than ever, they expect marketing campaigns to be more in tune with what's "now" and what they want/expect. As audiences find new and better ways of avoiding advertisements (DVR, Spotify, etc.), native advertising, product placement, and good old-fashioned PR hustle are going to become more effective ways to spread a company's message to their target audience.
SEO isn't going anywhere and should continue to be a primary focus for marketers.
Connect with Kari on Facebook, Twitter, Google+ and LinkedIn.