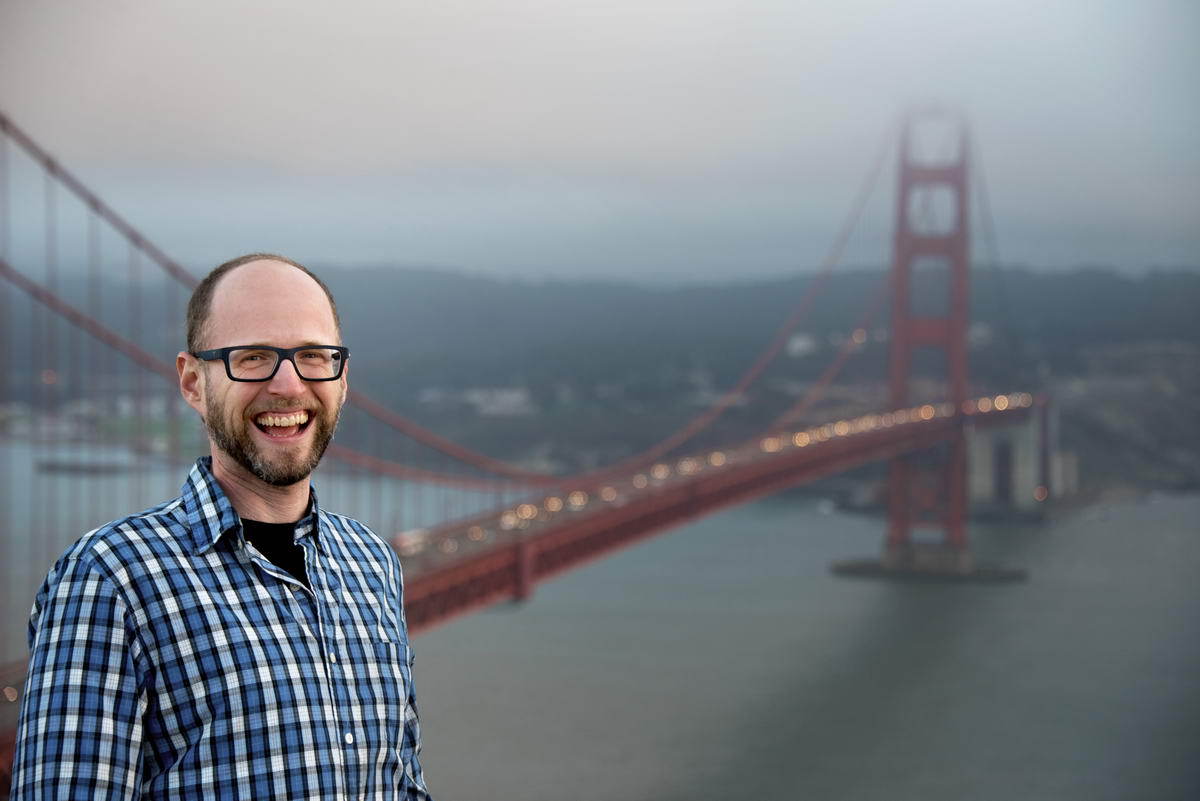 Have you ever noticed that the best advice in life is often the kind you hear repeated over and over again?
We asked award-winning travel photographer, storyteller, and world traveler Greg Goodman for his tips for freelancers on marketing their work and building an audience. His response?
Don't give up.
"Self-marketing is a hard process, and it's easy to get discouraged," he says. "However, there's a light at the end of the tunnel, and it's full of clicks, impressions, and conversions."
And Greg would seem to know a thing or two about building an audience for his work. It's appeared in everything from galleries to magazines to websites around the world.
Here, Greg shares more about his love for travel, discusses building his brand, and offers advice for taking better pictures and writing better stories.
Tell us about Adventures of a GoodMan…when and why did you start your site?
Quick answer: It's all because of a beautiful woman.
First, I created a simple photography website to impress my girlfriend. Then, when Carrie left to volunteer in Nicaragua, I quit my job, sold my stuff, and joined her for seven months. Back then, I sent emails home to family and friends with updates from our travels. That was in 2005. Today, those emails have evolved into Adventures of a GoodMan: the full-color magazine of my life.
How did you get started in photography? What drew you to it?
Both my parents were avid photographers and travelers. They gave me a camera for a trip when I was a young boy, and the rest is history.
From the beginning, I loved pointing my camera at the sights and people we saw on the road, often emulating mom and dad's choice of subjects. As I got older, I developed a passion for snapping photos of friends and events. This continued through college and into the early days of digital photography.
My current love of sharing photography with the world began in Nicaragua and was reinforced during a subsequent backpacking trip across Central America. That's when I first saw the potential of photography to act as a cultural bridge. I also began to understand that all people have the same universal needs and responsibilities. For example, we've all got to eat, sleep, take care of our families, work, get from here to there, etc.
What fascinated me most is what these needs look like around the globe. To help illustrate these global symmetries, I've created collages featuring photos of the same thing taken around the world. The shape of the collage is determined by the universal need itself. I invite you to learn more by watching this short video or visiting The Symmetry Project.
Where are the most interesting/exciting places photography has taken you in life?
Photography has been my driving force for traveling around our world. So, my easy answer would be "everywhere I've ever been." A few favorite destinations include Angkor Wat, Dubai, Turkey, and the ancient city of Bagan in Myanmar. However, my absolute favorite experience and destination was when National Geographic hired me to star in a TV show in South Korea. For 35 days, I had unlimited access to some of the most local places and events in the country. Highlights included attending a shamanic exorcism, winning a traditional wrestling match, and catching an octopus in the mud, which they later made me eat alive.
You can watch Get Lost in Korea here.
What have been the best methods you've found to build the audience for Adventures of a GoodMan?
Whew, tough question. Building an audience – especially in the crowded travel blogger market – is tough!
I do all the usual social media: Facebook, Twitter, Google+, Instagram, YouTube, etc.
I also write guest posts and interviews (like this one) whenever possible.
My TV show brought in a bunch of new visitors, many of whom have stuck around.
However, the best method I have found is to just be myself and interact with others. People really seem to resonate with that.
What's been your process for branding yourself and your site?
When Adventures of a GoodMan started, it simply was a way to keep in touch with friends and family while traveling. The site's design was cartoony, and my writing style was very casual.
In the years since, I have come to see this as a career as well as my life's passion.
That means I strive to sell and license photos in addition to sharing stories and advice from the road.
It also means I needed a more professional personal brand. That's why I hired a personal branding coach, redesigned my site, and began focusing on marketing.
Like everything in life, it's still a work in progress. But, so far, so good.
How important has SEO been to growing your site?
To be honest, I don't do too much SEO. I know I can/should do more, but I would rather write about things I'm passionate about than focusing on clicks.
That said, I do a few things pretty regularly. The big one is making sure at least one keyword has density in every article I write. I also try to use the full names of locations as much as possible. For example, if I'm writing an article about living in Chiang Mai, I will make sure add the word Thailand after Chiang Mai…even if it makes the article a bit clunkier to read.
Great images are key to successful content marketing, so what are some basic tips you can offer us on taking better photos?
The best tip I can give is to look at all four corners of your image before taking a photo.
All too often, we get sidetracked by the focal point of a shot and don't notice other distracting elements that creep in. There's nothing worse than an errant passerby or electric pole ruining a beautiful photo.
A few other tips:
First, take the photo you think you should take. Then, take a few that make your heart sing. For instance, after arriving at a famous destination, I first snap the obligatory postcard shot. Then, I have fun with details, shadows, silhouettes, and unique angles.
Move your body, not just your zoom lens. If you think you've got a good shot where you are, try a different perspective. A spectacular photo might be just a few feet away – and you can always go back to where you were.
Point your camera into the sun. This can create sunbursts and all sorts of other effects to make your photos more interesting.
Change the white balance. Sometimes, using the "wrong" white balance setting leads to beautiful results, especially during sunset.
What about advice on writing more engaging, shareable content?
Make it personal. Whatever you are writing about, people always relate to personal examples, especially those that show flaws or mistakes you made before learning an important lesson.
When I write travel stories, I always try to show the good, the bad, and the beautiful parts of every moment.
Where do you go on the web for inspiration for your work?
I spend a lot of time looking at other travel blogs and photo sites. 500px is a great source for top-notch photography, and PetaPixel keeps me up to date on the latest photo trends.
I'm always looking at photos to see what elements I like and figuring out ways to experiment with them in my own work. It's a constant learning process and an amazing amount of fun!