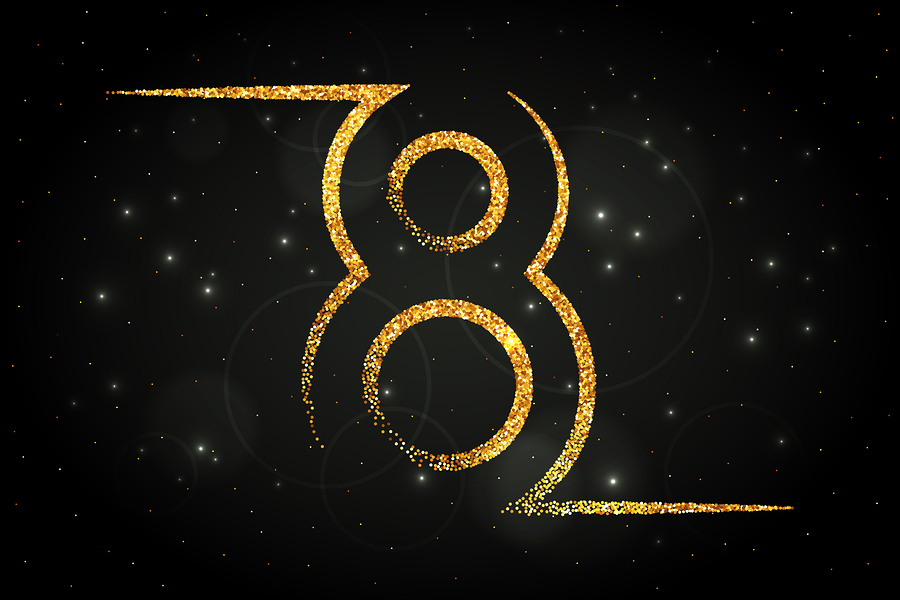 Getting traffic to your website is necessary to sustain online business growth, but traffic alone is worthless. Traffic is not what drives sales. Without the ability to leverage and convert that traffic, your website will be nothing more than a revolving door–with visitors leaving as fast as they came.
To increase your conversions and keep your customers from leaving, you need to first look under the hood and discover what it is your visitors want. Once you understand their behavior and where you can improve, you can apply changes and test them to determine which ones result in the highest conversions.
To do this successfully, take advantage of the many helpful tools out there as they will automate your tasks and provide valuable data to help you get the most success from your conversion rate optimization campaigns. Below, I listed eight of these tools, and to help you identify which ones to use, I broke them down into three categories: analytics, behavioral research, and testing.
Let's get to it!
Analytics
Analytics tools provide quantitative data you can use to track and report what is happening on your site. Analyzing this data will help you isolate potential problems in your funnels and look for opportunities on where to start optimizing for best results. Here are some ways analytics programs can assist with conversion rate optimization:
Bounce rates – Where are people dropping off your site? Isolate these pages and optimize them to increase bounce rates and keep people on your site longer.
Time on page – Optimize the pages where users are spending the shortest duration of time. Tip: Sometimes a shorter time on page is a good thing if you have an opt-in where users are taken away after opting in. Match the right metrics with the right pages.
Demographics – Knowing your visitors' demographics can help you with optimizing your pages to better meet their needs.
Browser issues – Slow page load time decrease conversions. Analytics programs can show you when a browser may not be loading a page on your website.
Segmentation – Segmentation allows you to track how many people convert through various channels such as PPC, organic search, direct traffic and social. Use these segments and test within these channels to optimize your pages.
Funnel tracking – Review where people stop in your conversion funnels and track which ones converted and which visitors stopped along the way. Identify these leaks in your funnel so you can optimize it and move more people through.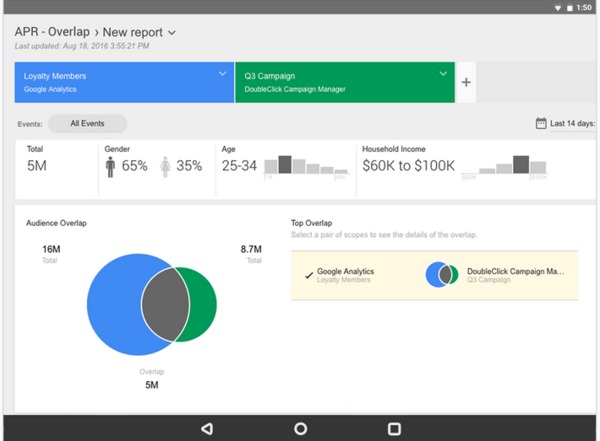 Google Analytics (GA) is one of the more popular analytics tools. It provides numerous insights and also allows you to set up conversion goals to track rates directly from the platform. It also offers conversion experiments where you can run split tests on different page variations to determine which page converts the highest.
Pricing:
Free and Enterprise solutions available. The Enterprise solution offers more robust, advanced features and fewer limitations than the free version.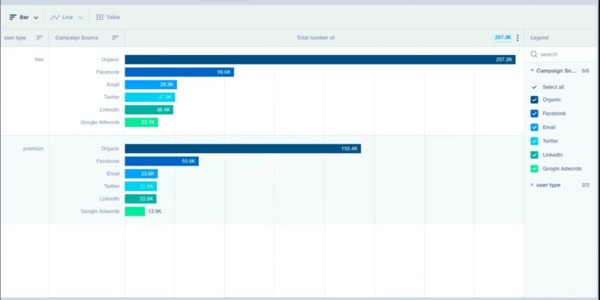 Mixpanel is similar to Google Analytics in that it allows you to extract user data to figure out what is happening on your site. However, one major difference between Mixpanel and GA is that instead of tracking page views, Mixpanel tracks users' actions (engagement) on your website or mobile application. Mixpanel also offers additional features such as autotracking, customer email and push notifications, and A/B testing.
Pricing:
Free plans are offered with limited features. Paid plans are offered in two categories – Engagement (Analytics data and reporting) and People Plans (customizable profiles, activity feed, predictive analytics, notifications and messaging). Engagement plans start at $99 / month and People Plans start at $150 / month.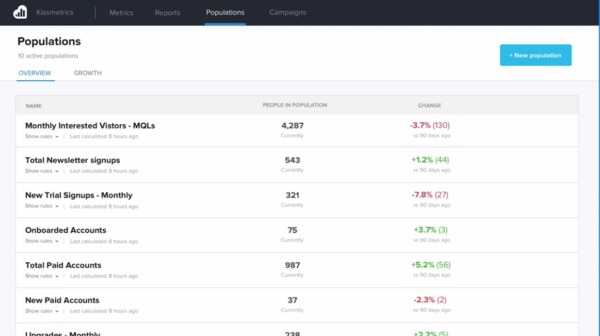 Similar to MixPanel, Kissmetrics also tracks user behavior instead of pageviews to help you identify roadblocks. Track how your users behave while entering and leaving your funnel and gather insights along the way to improve your conversions. Kissmetrics also offers email campaign automation based on user behavior, and A/B testing.
Pricing:
Plans start at $500 / month with a 20% discount for annual billing.
Behavioral Research
While analytics provide data on your users' actions, it does not provide real-time user feedback nor allow you to watch your visitors interact with your site. This is where real-time research and behavioral tools come into play. These tools can provide behavioral feedback to show you where you can improve your website pages and thereby increase conversions by giving your visitors exactly what they want.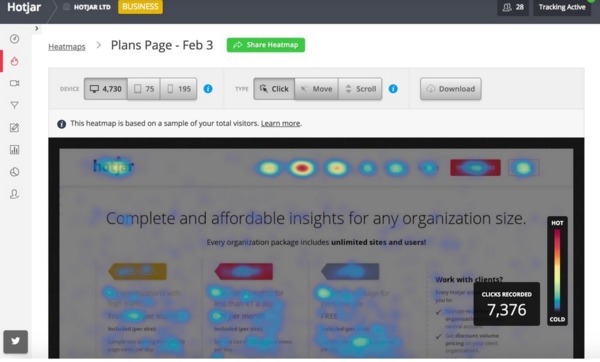 Hotjar is an all-in-one platform that provides data on exactly how users interact with your site to help you get inside the minds of your website visitors. Use this data to find out what your visitors do not like about your site so you can improve these areas and increase conversions. Features include heatmaps, real-time video recordings, conversion funnels (discover where your visitors are leaving), form analysis (discover when and why visitors abandon your forms), feedback polls, surveys and user test recruitment (recruit users for one-on-one testing and interviews).
Pricing:
Free plans are offered for personal use with an upgrade for $29 / month. Business plans start at $89 / month while Agency plan prices depend on the number of clients. Fifteen-day free trials are offered.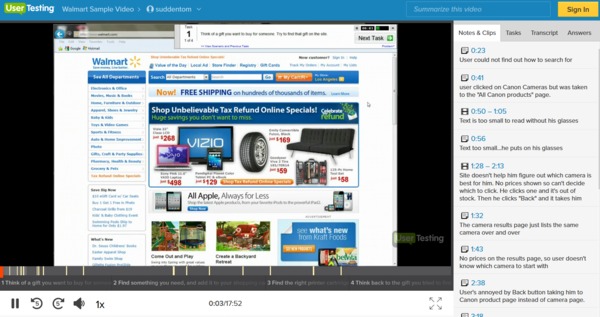 UserTesting is a unique user feedback service that offers video feedback from users who comprise your exact target market. You give users instructions on what to do on your site and they talk through their every move and what issues they face as they execute your wishes and browse your website. You receive notes and the transcript as well as answers to questions you ask the users. This service is valuable because it allows you to get as close to your target as possible, audibly hearing their issues/concerns/ likes and dislikes with your website and its user experience.
Pricing:
Pricing starts at $49 each for the first 10 videos. Enterprise options are also available.
Testing Platforms
Now that you have analytics and behavioral data, the next step is to test your hypotheses. You can do this with testing software. Note that some of the tools above include A/B testing along with their feature suite. However, the tools below are more robust testing platforms as testing is the tool's main feature. I recommend you start with a free trial to these tools as most offer them. Here are a few of the most popular testing platforms.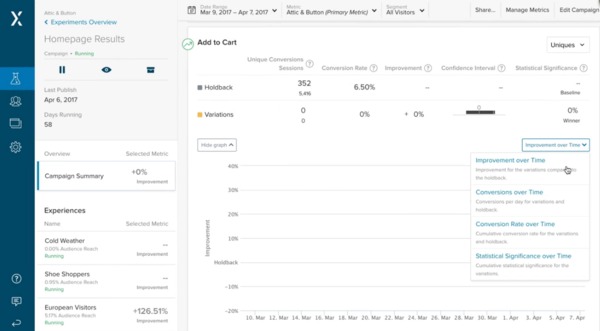 Optimizely is an experimentation platform that facilitates desktop and mobile A/B and multivariate testing. Other features include personalized recommendations that allow marketers to show different content to visitors depending on their browsing behavior, demographics, contextual clues, and other 3rd-party data. Optimizely has been touted as an industry leader of testing, however, its prices have increased over the years crowding out small business who do not have the budget to substantiate the high costs.
Pricing:
Optimizely offers a 30-day free trial. Annual pricing and pay-as-you-go is also offered for three separate plans. The only pricing listed on its website is the premium pay-as-you-go plan for $49 / month; however, industry chatter mentions a $995 / month price tag for the standard plan.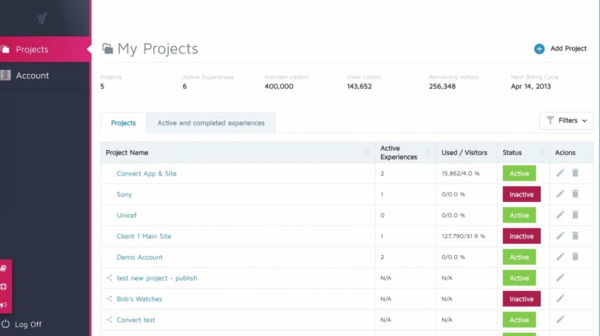 Convert Experiments is a similar platform to Optimizely but offered at a lower price tag. Convert is known to seamlessly integrate with Google Analytics and it is priced mid-range for testing tools while including some of the most robust features available.
Pricing:
Free 15-day trial offered. Plans start at $449 / month billed annually and $599 / month billed monthly.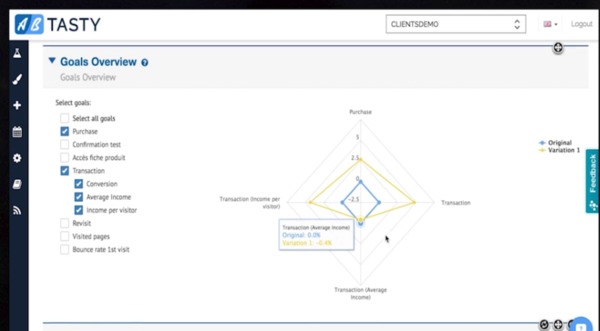 ABTasty is the lowest-priced option of this group. While it does not offer as many add-ons as its higher-priced competitors, it still offers some robust testing features. Similar to its competitors, it offers A/B, multivariate and multipage testing and an easy-to-use visual editor. It also offers mobile testing, personalization and engagement features. Experts recommend ABTasty for companies that are just starting out with conversion testing as they may not need all the bells and whistles of the higher-priced software. This tool is also valuable for companies that want to invest more of their conversion budget into research, rather than software add-ons they may or may not need.
Pricing:
Packages start at $249 a month.
It's Your Turn
Looking for some ideas on how and what to test? Check out The Definitive Checklist for Conversion Optimization. In it you will find a tips checklist and test examples to help you start and improve your conversion campaigns. You can also get information on what conversion rates you should be getting for your industry so you can effectively set goals. Now get out there and start converting!