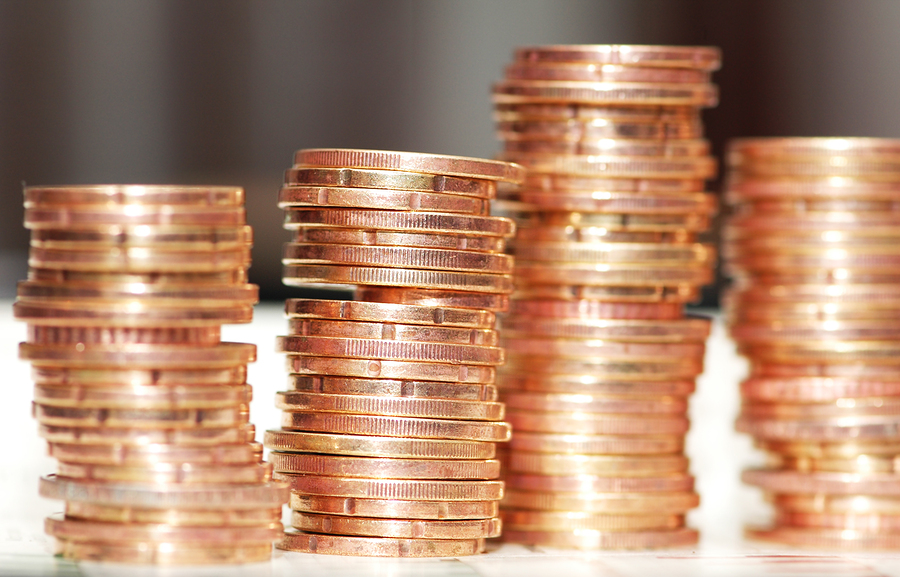 Let's face it. Traffic can be super expensive, and advertising can be a money suck if you don't know what you are doing. Big corporations have large budgets to sink into these strategies to ensure they get results, but not every business has the luxury of spending millions of dollars on marketing to test what works and what doesn't.
Conversion rate optimization has leveled the playing field, however, and allowed companies of all sizes to get in on the sales-boosting game. And since CRO is less about the size of your budget and more about your problem-solving abilities, if you have the ability to creatively think about how your visitors interact with your site, you can boost your conversions–and do so on a large scale.
Below are five examples of companies of all sizes that have experienced double and triple-digit conversion rate increases by changing up and testing some elements on their website pages.
Package selection layout – 246% increase in clicks
Verizon Wireless conducted an in-house study on its plan selection web page. The cell phone provider wanted to find the best layout that would make it easier for users to select a plan.
The company performed multivariate testing on three new versions that each had different layouts than the original. Here are the versions:
Original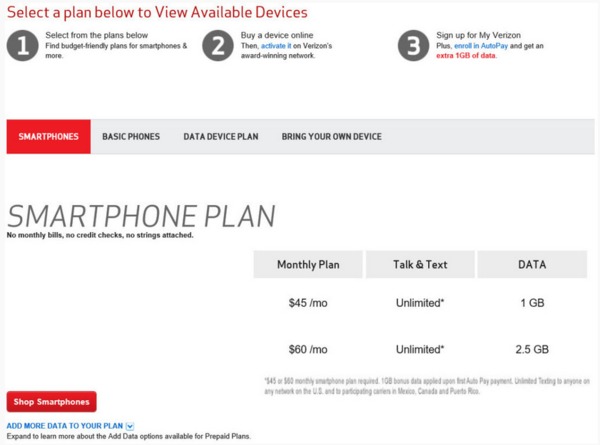 Version 1 – Added red "Total Data" column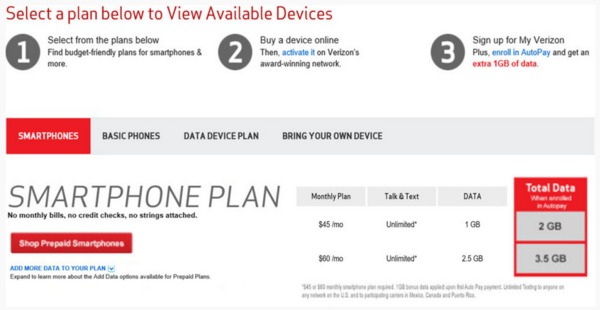 Version 2 – Placed CTA lower and added callout for autopay feature
Version 3 – Horizontal layout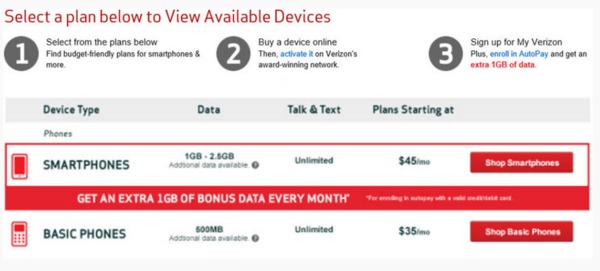 Version 4 – Vertical layout with additional details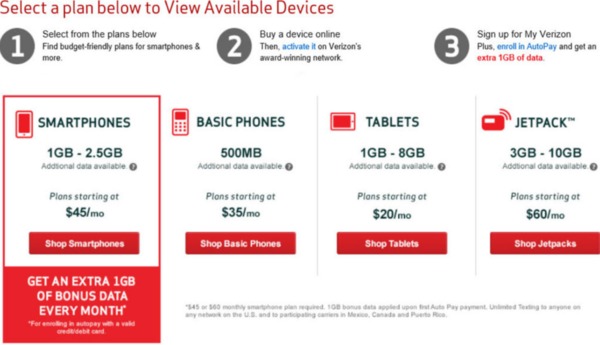 Version 4 was the clear winner with double and triple digit increases in click-through rates. As reported by Behave, here are the results:
50% increase to the Smartphone gridwall
47% increase to Basic Phone gridwall
201% increase to the Tablet gridwall
246% increase to Jetpack gridwall
Version 4 also increased prepaid phone plan purchase conversion rates by 19% over the original.
Version 4 was the most concise, easy-to-digest format, and it is suggested that this is the reason for the conversion lifts. Internet users have short attention spans and they switch frequently from web page to web page. The layout that required the least amount of work to analyze and interact with was the clear winner.
In version 4 the bonus also stands out. It is also visible in Version 3 but, in this version, you have to read more to understand the incentive.
When creating your layouts for plan-focused pages or pages with a lot of content, consider layouts that require the least amount of work to digest. Your eye should gravitate to the most important information right away and it shouldn't take more than a few seconds for you to understand exactly what is being offered.
Pop-up color design – 63% increase in signups
The MECLabs team conducted an A/B test on a signup form for a company offering debt consolidation services. The popup collects leads who are interested in a free debt consultation.
Here is the original popup design: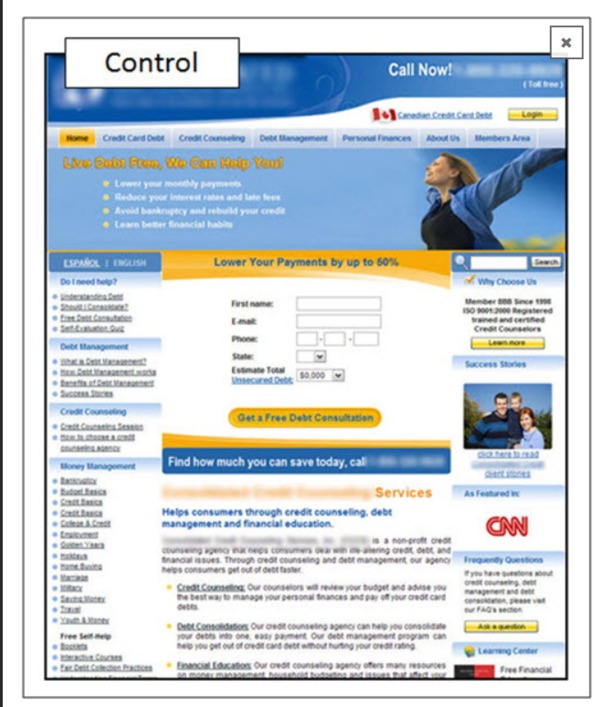 You may not even be able to spot the popup right away. That's because the colors are close to the website design and it does not stand out from the page. The analysts noticed this and tested a new version below: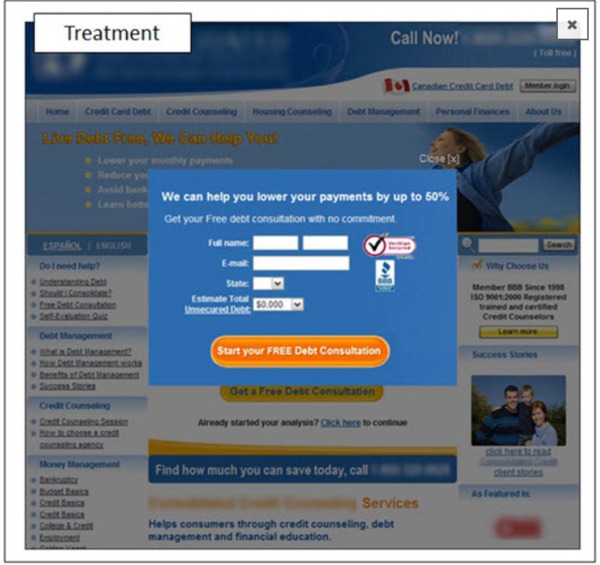 Notice the gray background added behind the popup to darken the website. This places more emphasis on the popup and makes it more noticeable. The popup background was also changed from white to blue with white font added to pop against the dark blue background. Notice some of the other subtle changes such as the addition of trust logos, the different text on the CTA button calling out FREE, and some additional copy added to the top to specify "there is no commitment required." Adding the "no commitment required" phrasing answers a prospect's objection right away and removes friction, thereby increasing conversions.
Selection page layout – 84% increase in clicks; $1.72 million increase in annual registration value
BlastAM conducted an experiment for Blurb, a book creation site, to help increase registrations and revenue on its "Choose a Bookmarking Tool" page.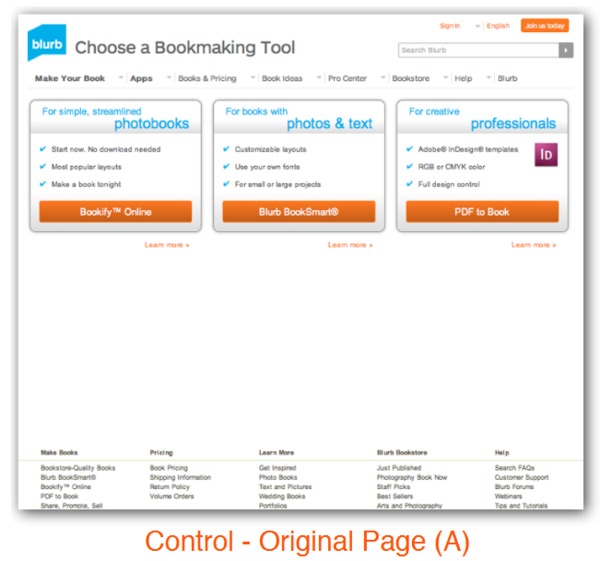 BlastAM conducted nine A/B tests with variations including changes such as the addition of images, removal of offer links, clearer headings, sub-headings and options, and more descriptive product information. With the results from the various tests, the company created this layout below which ultimately won above the rest.
The winning page resulted in 84% more visitors clicking to register and another 5% using the compare tool. Overall, as a result of implementing the new layout, Blurb was able to achieve a 19.8% increase in sales conversions and a $1.72 million increase in annual registration value.
The winning layout was simple and concise, and also highlighted the benefits in bullet form. The page also included descriptive images for additional emphasis. Images paint a visual picture for website visitors and make what is intangible seem more real. Increasing conversions can sometimes be as simple as adding images to make your products and offers more real to your visitors.
Landing page image – 100% increase in leads
You may think that listing the price on your lead generation forms will deter users. But, in this case, it actually resulted in a significant increase in leads. VWO reported on a test run by one of its customers, SafeSoft Solutions. It was able to double the number of incoming leads from its landing page by adding a simple image.
The purpose of the landing page was to funnel PPC traffic to fill out a form to start a free trial for its Market Dialer product.
Here is the original: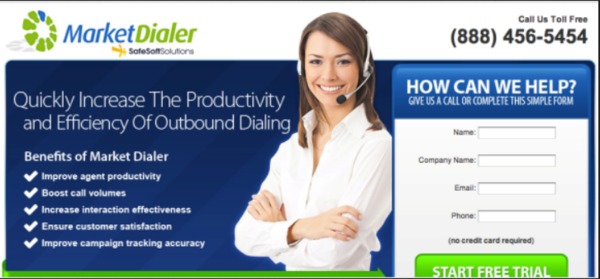 The company added the price in a prominent position ($75 per seat) and changed the button text from "Start Free Trial" to "Start Today."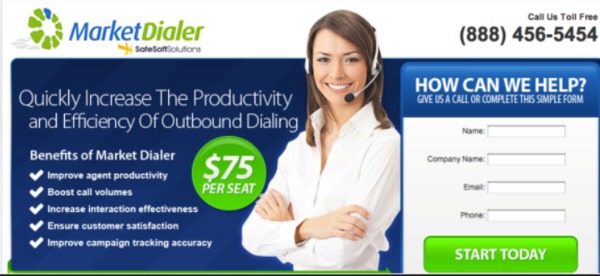 Why did the latter page show an increase in leads? VWO hypothesized that consumers who were price shopping and looking for the best deals were not interested in talking to a sales representative. They were simply looking for a good value.
This is a prime example of how best practices do not always lead to the best outcomes. Each scenario is different and each company's visitors' intents may be different as well depending on where they are coming from and what they are looking for.
Conversion rate optimization is not just about applying best practices but also about reviewing the customer journey before they reach your website. Where did they start the conversation with you? In this case, the landing page hailed from a PPC ad, which means consumers were using Google. This tells us they have access to many different results on the Google interface so they will likely be comparison shopping and want the answer to their questions the fastest. In this case, that question was, "How much does it cost?"
Personalizing website text – 32.6% increase in opt-ins
Have you ever been told to use the word FREE in your marketing copy to increase conversions? It's a best practice but it doesn't always result in the highest conversions.
Behave conducted a test for Secret Escapes, a website that hand picks hotels for members. The company wanted to increase email opt-ins by promoting a special offer on its homepage.
Version A used personalization to encourage signups. It emphasized the word "luxury" in the copy and the image because this matched the keyword search visitors used to get to this landing page.

The 2nd version emphasized that signup was free and showed a more generic image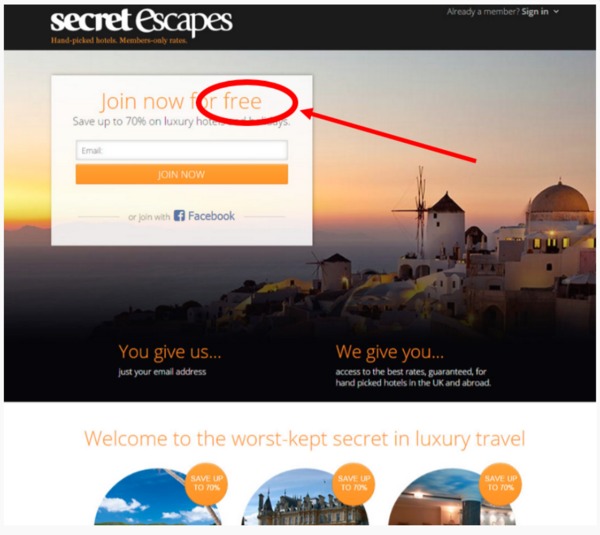 The first version won because it offered users a personalized experience that was more relevant to their search. These visitors were coming from a keyword search that included phrasing around "luxury." This is why Version 1 tested higher, even though Version 2 included the word "free."
When conducting A/B tests, in addition to thinking about your users' desires, also consider where your visitors came from and their actions before reaching your pages. Relevancy is a key to high conversions. Don't give your visitors what you think they want. Give them exactly what they would expect.
You Can Achieve The Same Results
With a little tweaking and testing, you too can increase your conversions and revenue as a result. If you would like more information on how to boost your conversions, head over to our Definitive Checklist for Conversion Optimization. We compiled some tips on how to get the most out of your conversion rate campaigns. We also offer industry conversion rates to use as benchmarks so you can not only set the right conversion goals, but achieve them quickly and easily.