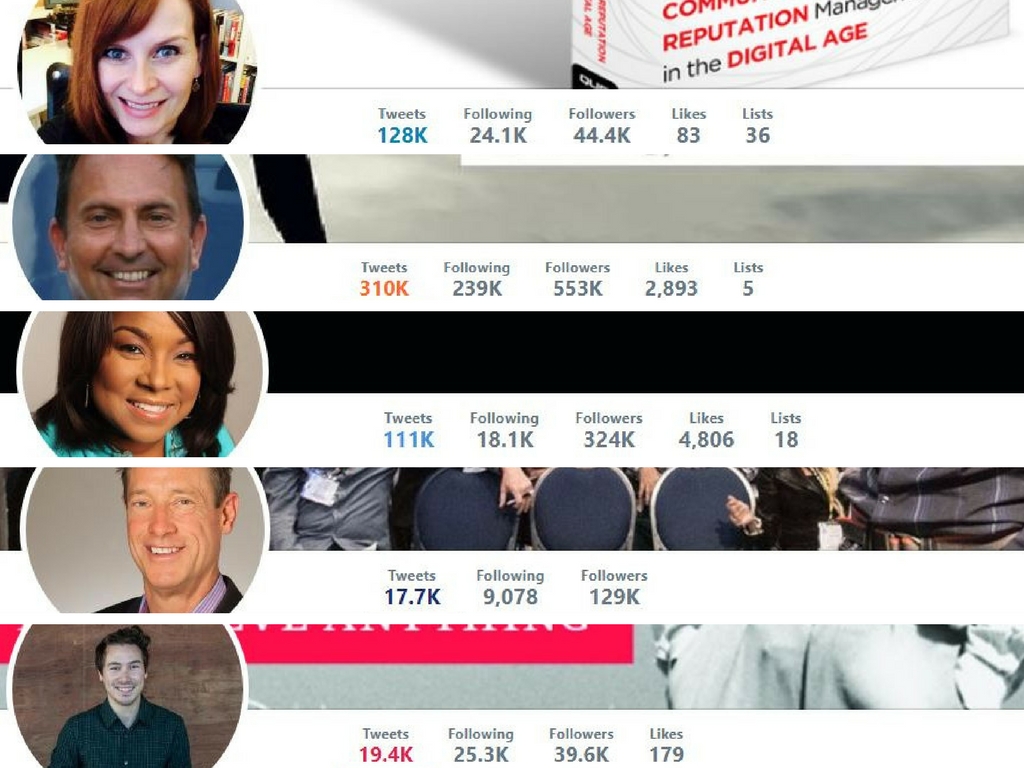 Influencers are industry leaders who yield great power online, a power so great, businesses are pining to work with them whenever they get a chance. With only a few keystrokes and a couple of mouse clicks, an influencer can expose brands to thousands of people they would never have access to otherwise.
There is a problem, however. How many busy, popular A and B-list internet celebrities will give your brand the time of day? You may be surprised to learn that many top influencers are willing to partner with brands like yours to help them get exposure. And we listed a dozen+ of them below.
Our list is comprised of either influencers we have worked with before, ones we have researched online, and others whom we have heard about from word-of-mouth.
At the end of the article, we also outlined some quick tips on how to get access to these influencers and what to avoid if you want to get their attention.
Let's go!
Gini Dietrich
Industry: PR / Marketing / Communication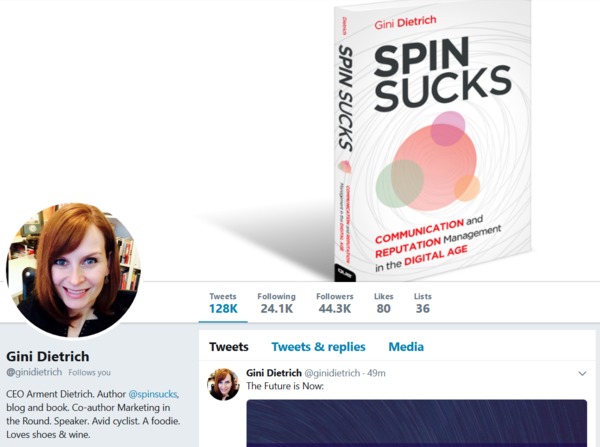 Gini Dietrich is the founder and CEO of Arment Dietrich, a digital marketing and communications firm that provides alternatives to traditional marketing communication. She is also the author of Spin Sucks, which is a popular blog and a book, and she has worked with enterprise clients such as Sprint, GR, and Abbott. She also provides professional development for marketing and PR professionals.
Contact Information:
Twitter: @ginidietrich
LinkedIn: Gini Dietrich
Accepting contributor submissions
Henneke Duistermaat
Industry: Digital marketing / Copywriting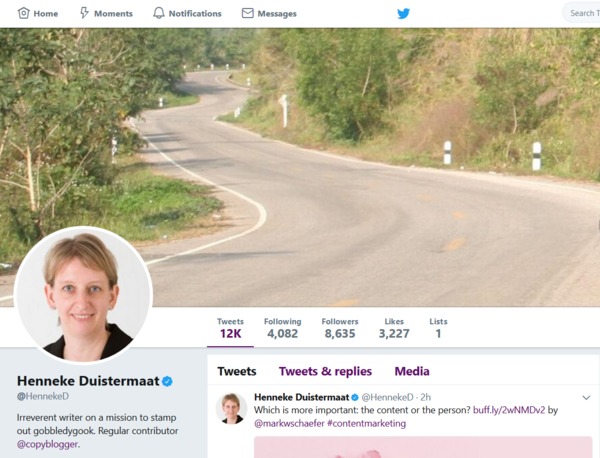 Henneke Duistermaat is a prolific writer/blogger/copywriter and the founder of Enchanting Marketing. She was featured as one of 11 "digital marketers to watch" by AWeber and named one of "50 Incredible Women in Marketing to Follow" by Search Engine Journal. She has also contributed to sites like Copyblogger, KISSMetrics, and Entrepreneur and has been interviewed for Inc.com and Forbes.com. She also wrote two popular books, Blog To Win Business and How To Write Seductive Web Copy.
Contact Information:
Twitter: @HennekeD
LinkedIn: Henneke Duistermaat
Email: [email protected]
Kim Garst
Industry: Social Media Marketing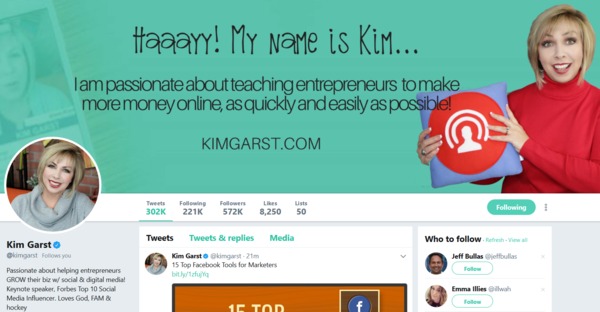 Touted by Forbes as one of the Top 10 Social Media Power Influencers, Kim Garst of kimgarst.com is a best-selling author and international speaker. She provides social media and digital marketing education and strategy to top brands like Microsoft, Mastercard, and IBM. She sells products to help brands with their social media marketing and runs live Facebook classes and webinars regularly…and she always does it with a smile.
Contact Information:
Twitter: @kimgarst
LinkedIn: Kim Garst
Facebook: kimgarstbiz
YouTube: brandyoucommunity
David Meerman Scott
Industry: Business strategy (sales and marketing)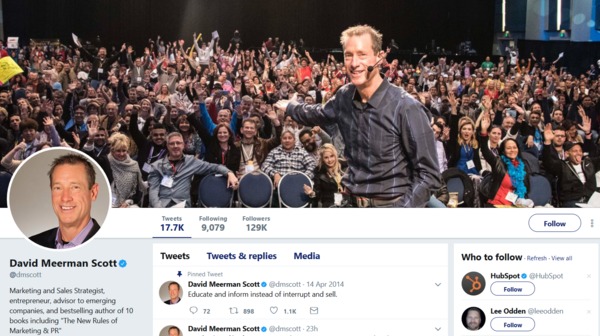 David Meerman Scott is a marketing and sales strategist, and the author of 10 books and three international bestsellers including Real-Time Marketing & PR, The New Rules of Marketing & PR (now in its 6th edition with 375,000 copies sold), and the Wall Street Journal bestseller, Newsjacking, World Wide Rave. David helps brands get attention, stand out and get noticed.
Contact information:
Twitter: @dmscott
LinkedIn: David Meerman Scott
Email: [email protected]
Melinda Emerson
Industry: Small business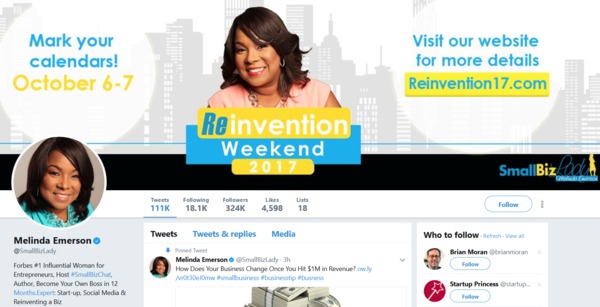 Known as the "SmallBizLady," Melinda Emerson is a 15-year entrepreneur, small business expert and international keynote speaker. Named by Forbes magazine as the #1 woman for entrepreneurs to follow on Twitter, Melinda is also quoted in publications like the Wall Street Journal, Fortune, MSNBC and Fox News. She is also the bestselling author of Become Your Own Boss in 12 Months and blogs regularly at succeedasyourownboss.com.
Twitter: @SmallBizLady
LinkedIn: Melinda Emerson
Jane Friedman
Industry: Digital media strategy / publishing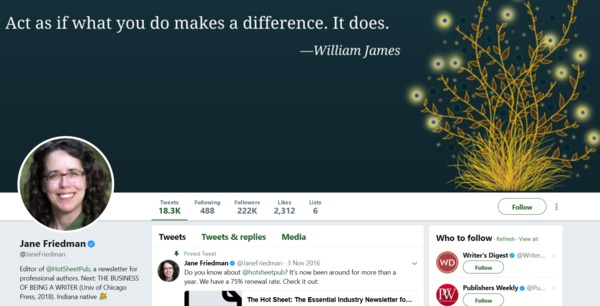 Jane Friedman is a 20-year veteran in digital media publishing and a columnist with Publishers Weekly. She has previously worked for F+W Media and the Virginia Quarterly Review and has been interviewed by outlets such as PBS, CBS, The Washington Post, and the National Press Club. She helped produce The Authors Guide to E-Publishing and runs a successful blog at JaneFriedman.com.
Contact Information:
Twitter: @JaneFriedman
LinkedIn: Jane Friedman
Bryan Kramer
Industry: Social / Marketing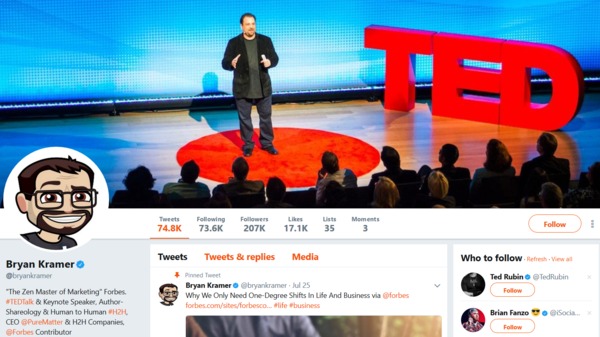 Known as "The Zen Master of Marketing," Bryan Kramer, international speaker and one of Forbes Top 25 influencers to follow, is credited with starting the #H2H human business movement in social marketing. His first book, There is No B2B or B2C: It's Human to Human #H2H was a bestseller in its category in its first week on Amazon. His latest book, Shareology: How Sharing is Powering the Human Economy, made the USA Today's Top 150 Book List the first week of its launch. Bryan is also the CEO of Pure Matter, a social, influencer marketing and consultation company to help businesses humanize and promote creativity.
Contact Information:
Twitter: @bryankramer
LinkedIn: Bryan Kramer
Steve Strauss
Industry: Small business journalism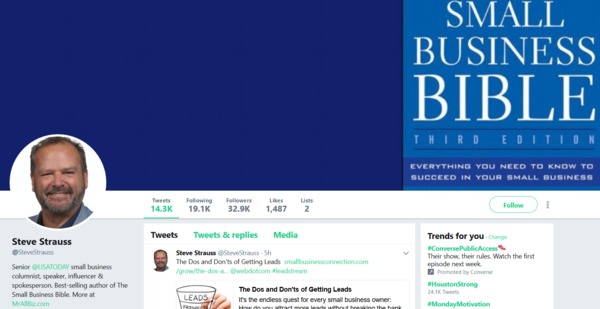 Steve Strauss is a senior small business columnist for USA TODAY, international speaker and author of 16 books including bestselling The Small Business Bible. He runs Strauss Content Co. where he creates content for top brands such as Microsoft, Bank of America and Staples.
Contact Information
Twitter: @SteveStrauss
LinkedIn: Steve Strauss
Jeff Bullas
Industry: Social media / Digital marketing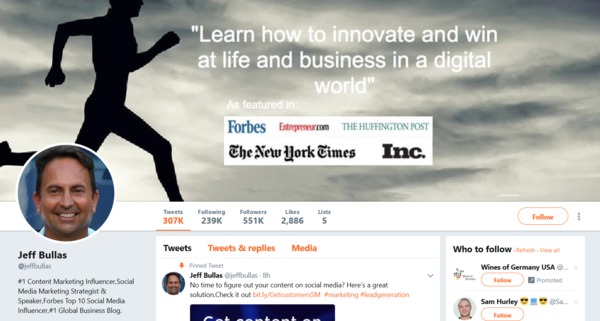 Listed as one of Forbes' top 20 influencers of CMOs and featured on Inc.com's "20 Digital Marketing Experts to Follow on Twitter," Jeff Bullas draws millions of followers monthly to his online properties. His blog, JeffBullas.com, provides top-level information on all aspects of digital marketing, and according to Bullas, his mission is to educate people on "How to win at business and life in a digital world".
Contact Information:
Twitter: @jeffbullas
LinkedIn: Jeff Bullas
Website contact and accepting guest contributions
Nathan Chan
Industry: Entrepreneurship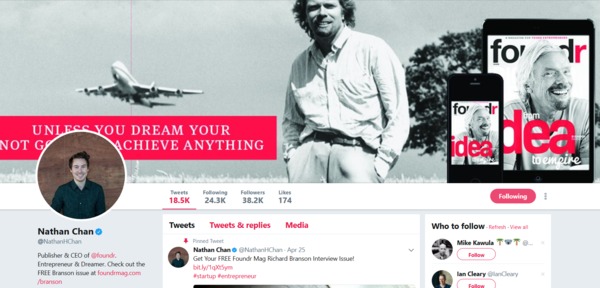 Nathan Chan is the founder of Foundr, a digital magazine for young entrepreneurs with some of the world's top entrepreneurs gracing its cover such as Robert Herjavec, Richard Branson, Tony Robbins and more. Known for his 1.1M+ Instagram followers and an active Facebook community, Nathan also sells products instructing business owners on how to leverage the internet to grow.
Contact information:
Twitter: @NathanHChan
LinkedIn: Nathan H Chan
Brian D. Evans
Industry: Business / Entrepreneurship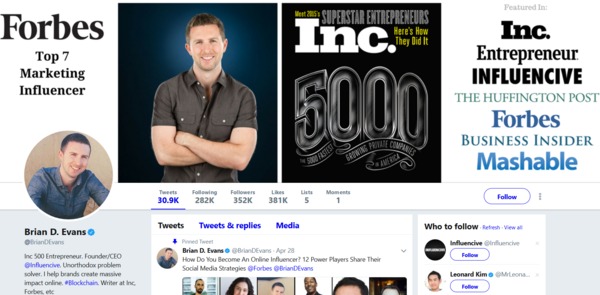 Brian D. Evans is the founder of Influencive, a popular blog and international community focused on teaching brands how to generate awareness and leverage influencer marketing. A #7 Marketing Influencer on Forbes, Brian also runs an advertising and marketing agency, BDE Ventures, that was recently ranked #172 on the Inc. 500 list of fastest growing private companies.
Contact Information:
Twitter: @BrianDEvans
LinkedIn: Brian D. Evans
Kiersten Rich
Industry: Travel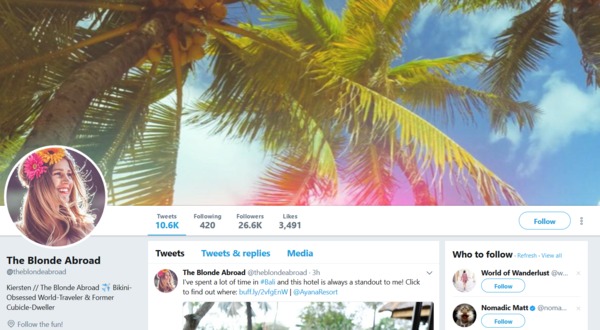 California travel blogger, Kiersten Rich,  at 22 years old, has traveled to more than 50 countries and has chronicled her adventures along the way. She posts for her nearly half a million Instagram followers and on her blog, The Blonde Abroad. Her success has taken her all over the world and landed her in Bali where she co-hosts elite blogging retreats and travel tours.
Instagram: theblondeabroad
LinkedIn: Kiersten Rich
Twitter: @theblondeabroad
YouTube: TheBlondeAbroad
Simeon Panda
Industry: Fitness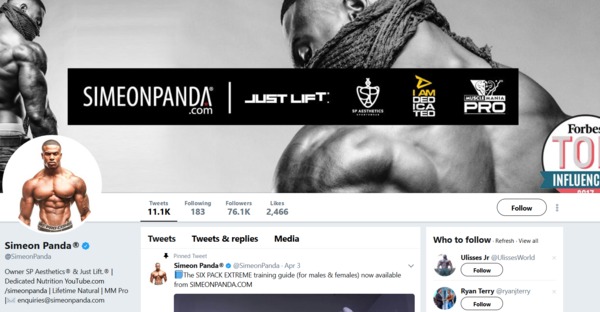 Simeon Panda is an internationally-known fitness professional and entrepreneur and the owner of SP Aesthetics Sportswear ® and Just Lift ®. Known by Forbes as one of the top 10 influencers for fitness, Simeon has been featured in major fitness publications like MuscleMag, Muscle-Insider, and Fitness RX, and appeared live on TV shows and hosts worldwide seminars.
Contact Information:
Twitter: @SimeonPanda
YouTube: SimeonPanda
Instagram: simeonpanda
Facebook: simeonpanda
LinkedIn: Simeon Panda
Email: [email protected]
Lily Diamond
Industry: Culinary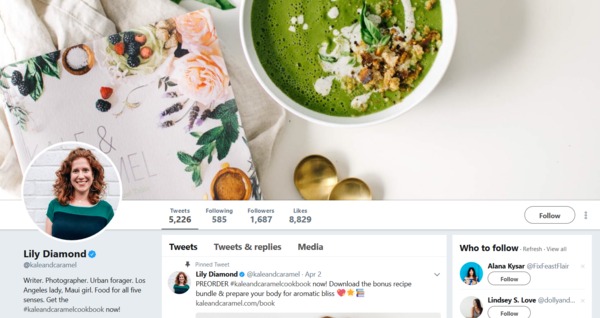 Lily Diamond is a Los Angeles food blogger known for bringing the tastes of the land into her exquisite dishes. She crafts and posts her recipes on her blog, Kale & Caramel, food for all five senses, and also posts for her 54K engaged Instagram followers.
Instagram: kaleandcaramel
Twitter: @kaleandcaramel
LinkedIn: Lily Diamond
Email: [email protected]
Shalice Noel
Industry: Fashion and Lifestyle
Shalice Noel is a popular fashion and lifestyle blogger, stylist and mother of four children. Her blog, shalicenoel.com showcases her fashion style and lifestyle to her 200K followers where she posts her latest outfits and family stories.
Contact information:
Instagram: shalicenoel
Twitter: @shalicenoel
Email: [email protected]
Quick Influencer Contact Tips
To increase the chances of influencers working with you, here are a few quick tips:
- Get to know them – Don't contact influencers before you have a chance to get to know their brand. They can spot "fake" a mile away and they respond to brand love, only if it is genuine.
-  What's in it for them? – If you message them and you don't yet know how they can get value out of the relationship, you won't get a reply.
- Make it quick – Influencers are busy. If they see a long, drawn out message, they will chuck it.
- Let them speak – If you contact influencers because you have a product/brand fit, don't expect them to use your messaging outright. They may not expose their brand to content unless they have a hand in creating it.
Another effective way to get exposure is to request to guest blog on the influencer's website/blog. I listed some links to guest blogging opportunities in the influencers' profiles above. Guest blogging is a way to show the influencer your interest and start the relationship off by giving them valuable content for their audience. In return, you will also get some exposure.
Get To It!
Influencers generally aren't opposed to working with you to help you get exposure. As long as you keep their needs in mind and you treat their brands as careful as you would your own, you can develop influencer partnerships that will boost your brand and help you generate awareness and sales. Good luck!