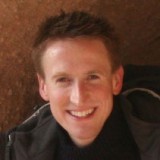 They say you need about 10,000 hours of practice to become an expert in your given field. We say you only need 10 minutes to read our interviews with the experts.
One of those experts, Jeremy Oms, is on a mission; a mission to build a better website. With his company NewBlood, Jeremy specializes in constructing sites that make it easier for anybody, not just a dedicated webmaster, to run. Join us as we go on a 10-minute journey into what makes for good website design and what it can do for your business.
First off, tell us a bit about NewBlood. What does it offer small businesses looking to get on the web?
New Blood is a web development company that specializes in building custom websites that empower small businesses to grow useful and flourishing presences on the Internet. We focus on creating websites that take away the need for a dedicated webmaster and put the business' team in the driver seat to update, maintain, and add new content.
What misconceptions do you find small businesses have about website design and internet marketing?
In the realm of web development, many small businesses look at other competitor websites with all the bells and whistles and often get caught up thinking they need all the fancy flashy design elements in order to compete. They are under the impression that if they had a lot of movement or a fancy menu system their customers would flock to give them money. The truth is, many small businesses can be very successful on the web without focusing on looking fancy or flashy. Yes, your website should look presentable, but in the new age of the Internet where designing a great looking website can be done by virtually anyone, the way to really differentiate yourself from your competitors is by creating and offering great high quality content.
This high quality content may be text based, or even photos, videos, and even slide presentations. Marketing your website on the Internet is no longer about who has the best website design, it is now who has the best content that everyone must see. These are the websites that search engines love, and it is these types of sites that New Blood strives to empower businesses to grow.
Does every business need a website, or can some use a social media presence or similar "official" web presence?
Certainly in the rapidly changing world of the Internet there are many different ways that businesses can be successful using various platforms available online. Social media is currently one of those major platforms that offers some great potential to reach masses quickly and effectively.
While we have seen businesses be successful with only social media presences and without an official website presence, we typically do not recommend this strategy to be your only strategy. Why? In thinking about where you would like to grow your business for the future, you must think about all possible scenarios. When you develop your main presence on a site like Facebook for instance, you are placing your reliance on Facebook that it will still be alive and valuable in the near and far future. The risk in going that route is the possibility that the next social media craze comes along and the Facebook users flock away leaving your website in an empty cavern. Just look at the businesses that put their trust in Myspace for so many years.
What should a quality website for a small business offer?
The basics should give a visitor insight into your company and the products/services you offer. On the deeper level, websites should be a place that tells your visitors why you are an authority in your space. Often this refers to developing and preparing high quality and relevant content.
What are some issues that small businesses may not be aware of when it comes to website design and construction?
Currently, one of the major issues that small businesses encounter in the web design and construction side of the world is developing a site that provides a proper user experience on all devices and platforms. This means whether you visit your website with a browser on a computer or through your smart phone or tablet/iPad, you are still getting a great user experience. If you want to learn more about this topic, I suggest referring to the phrase "responsive design." This issue is complex in nature, but there are a number of simple solutions to completely resolve any worries.
When should a small business consider an eCommerce solution? Is it only for mail-order businesses, or should others look into it?
Small businesses should focus first on growing an audience, and in specific gathering an email list of potential customers or leads that have visited their website. There is no reason to even consider selling something online if you are not getting visitors without having to pay hefty advertising costs. Once you start to gather your leads (via email lists or social media connections) you can then consider ways to monetize those connections via various "eCommerce" solutions.
One of the growing ways to monetize in the online small business world is selling training materials or online training publications. When you are an expert in your trade/niche, it can make for a fairly simple transition to create video training series or downloadable written materials that users can purchase.
How should a business integrate their websites into their marketing plans?
First off, you must be reviewing your website statistics. This is often viewed through an analytics software like Google analytics. With that in place, businesses should be setting goals for the website in terms of metrics they can measure in their analytics. This is a very loaded topic, but the short answer is to create metrics for your website that ultimately generates more income for your business, rather than simply focusing on trying to get more visitors. More visitors does not always mean more income. Increasing conversion rates typically does mean more income.
How should web media be used on a small business site?
In 2013, it has been stated that if you and your website are not at least thinking about incorporating media into your website, you are going to get left behind. As it is, YouTube has found its way to the second most used search engine behind Google. In addition, many search results that Google shows to its users include video. Not only are search engines elevating video status, many websites are smartly incorporating video to engage users for even longer on their website. Incorporating media, in particular video, is becoming an essential for every type of website, just to keep up.
What do you wish everybody knew about website design?
I wish everyone knew how important it is to consistently create high quality content for your website. As much as people love to focus on other aspects of website design and functionality, the heart of every website really lies in quality content. Without it, visitors will not stick around. Without useful content relevant to your niche, search engines will not value your website in search results.
All too often small businesses come to us with a development budget that gets their website up and running, but they leave out the next step which is to maintain and grow the content. A new or fresh website is only a portion of the battle. Ongoing growth and maintenance are a must to keep up and grow your authority.
Where do you see website design headed in the future?
That is a difficult question to answer. In some sense, with mobile usage on websites continuing to grow, the fancy websites are going to need to be pared down to properly function on the smaller screens and less powerful devices. In addition, focusing on a fast user experience even on the slower speeds that mobile devices offer means much less information should be transferring. Many small business websites are extremely behind in this realm. The future for them is transitioning to the changing platform usage, primarily phone and iPad/tablets.
For what NewBlood does on a day-to-day basis, I do not see much changing in the near future. Our core essentials are to focus on building websites that empower companies with useful ways to grow their online presence, through content creation, networking, and lead generating. These aspects in essence will not see significant change and will continue to be essential parts in elevating small businesses return on their website development investment.
For more on NewBlood's brand of web magic, follow them on Twitter @newbloodinc. Thanks again, Jeremy!