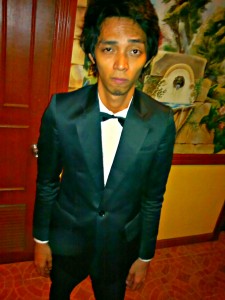 To become a legend in one's field takes time, practice, and dedication—sometimes 10,000 hours worth. Once a man or woman has achieved that milestone, then, and only then, are they ready for a Media Shower interview.
Today we've corralled Jason Acidre, better known as Kaiser the Sage; a man who started out as a professional gamer and has since shifted to become one of the most prominent SEO experts in the Philippines. Jason was gracious enough to take a moment from his schedule to talk with us about the future of search engine optimization, and how to make it work for your business.
Join us as we learn how to go from mastering Halo to kicking butt in SEO.
How did you first come to SEO and SEO strategy?
Back in February 2010, I badly needed a job. Coming from a loss (failing at my second attempt to start my own business), paying debts from my first business, and having a son–who was 7 months old at that time.
I originally applied for a writing position for an Australian SEO agency, but their HR/management team thought that my profile was fit to become an SEO, so I tried. They gave me ton of resources to review and learned all the basics, particularly those that I know I needed to learn (how to create a link, basic on-site, understanding search engines, etc.) in the first two weeks of being hired.
That was the time when I started blogging, since I needed a journal where I can store all the stuff I'm continuously learning and so I can also review all the strategies I'm testing/coming up with.
You started out as a professional gamer. What lessons did you take from that experience as you changed careers?
A lot! When I first started doing SEO, I figured that it's just like a game, where one of its main goals is to outrank your competitors. Coming from pro-gaming has taught me a lot of things that I still do apply up until now. In the pro-gaming scene, you need to be really competitive, and I believe that's one trait that I got from that experience that I still use in this very competitive industry.
Other things that I've gained from pro-gaming that I can still use in SEO:
Basic leadership and being a team player.
Devising strategies in real-time, knowing that there's a lot of changes going on in the SEO space, and instantly adapting to changes is very important, which I believe is very similar to adapting to and overcoming our opponents' plays in real-time.
Analyzing weaknesses and strengths of both my client's site and their competitors, and capitalizing on areas where our side has an unfair advantage.
You've mentioned on your blog that one word changed your perspective on life. Could you talk a bit about that experience?
Back in my college days, I was assigned to do a paper for our Psychology class, which was about "Sageliness," one of Lao Tzu's teachings in Taoism.
I was really compelled and fascinated by the principles of this particular teaching, and since I've done massive research about it, I was able to fully understand its meaning. Since then, I started applying that principle, and it even has a special place in my own personal brand's name, the Sage.
What are some of the challenges you often find working in SEO?
I'm not really sure. I love every aspect of SEO, I love learning new things every day and I kept challenging myself from the day I started doing SEO up to now. When you're really passionate about something, you'll embrace every challenge you'll encounter.
But for many people, especially the new ones, I think the most common challenge they will usually face in this ever-evolving industry is committing themselves to learn every single day and keeping themselves updated.  Given that SEO encompasses a lot of other marketing practices nowadays, you can't just specialize in one area. You'll also need to know other channels such as social, content marketing, analytics, conversion optimization, user experience, email marketing, project/client management, etc. to survive and thrive in this industry.
What are some things you wish your clients knew before they first contacted you?
That even though our company is based in the Philippines, our services' rates and quality is not cheap. We are working very hard to establish ourselves, and to also help our country become known as a world-class digital marketing destination.
What should a business do to get the most out of their work with an SEO professional?
Make sure that the SEO they hire really understands their business model and business goals, so that both parties can develop campaigns that are really aligned with their goals. Collaborate with your SEO team/agency in any way you can in terms of identifying the right channels/opportunities that will be really beneficial in growing the client's revenue, brand, and customer-base.
SEO is often divided into "black hat" and "white hat" strategies on blogs, but they rarely discuss the difference. What are some examples of the two?
Black hat techniques violate Google's webmaster guidelines, while white hat techniques do not. Basic samples of this is spamming the web, that is, creating ton of useless pages to get ranked or for these pages to pass ranking value to a site/page that black hats are optimizing, whereas with white hats, they create and offer value to their target audience to get the right signals that search engines are looking for.
What are some reasonable expectations with SEO work?
The most important metric that I usually use in my own campaigns is the growth and consistency of driving "targeted traffic." And the good thing about this is that I don't just rely on the amount of increase in traffic; I also look at the improvements in engagement rate, usage of the site and conversions. As a business owner, this is something that I'd like to see  — more than just the links and rankings  — because this data will drive more actions. If you're doing SEO right, then I believe you can expect good quality of traffic and better conversions.
What are some pitfalls businesses can stumble into with SEO?
There's nothing actually, as long as you're doing it appropriately. SEO is a long-term investment that can really help businesses with customer acquisition, strengthening brand presence and revenue generation. The only common pitfall I see is losing momentum through algorithmic changes and penalties. Although, if you have a really good team working on your site, doing real marketing and creating great experience for its users, then I don't see any other downside to it.
Where do you see SEO headed in the future?
It's going to be a lot tougher, for sure. Search engines are extracting ton of signals from various sources these days to determine which sites deserve to be more visible on search results. In order to compete, you need to know how to utilize other channels that also have direct impact to your site's ranking ability. SEO has already evolved into data-driven marketing, and it will continue to evolve beyond that.
For more Kaiser, err, Jason, follow him on Google +.