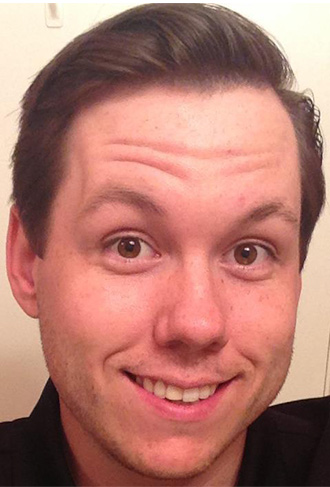 Got 10 minutes? We sure hope so. That's how long it'll take you to read one of our expert interviews, where we interview someone who's spent the 10,000 hours it takes to become an expert, then let you garner all that experience in just 10 minutes. Pretty sweet deal.
Today we're chatting with James Peacock, who manages social media at FIDM DigitalArts.com, an educational institution for graphic design and digital media. As part of his repertoire, James also takes care of business at the FIDM DigitalArts.com blog.
This all fits quite neatly with what we do at Media Shower– create great content. So we thought you would also love to hear some insights from James.
Can you tell us a bit about the FIDM DigitalArts.com blog?
The FIDMDigitalArts.com blog serves to build an online presence reflecting FIDM's reputation as a leading educational institution for graphic design and digital media by developing compelling content that informs and inspires both professionals and aspiring graphic designers and filmmakers. The FIDMDigitalArts.com Blog illustrates the range of opportunities within digital media and graphic design fields, and how FIDM's Digital Media and Graphic Design programs prepare students for their future careers within these industries.
When it comes to the Internet, would you say it is influencing graphic design in a big way, or that graphic design trends are influencing it in a big way?
The Internet is definitely influencing graphic design in some big ways! The biggest way the Internet is influencing graphic design in my opinion is the amount of growth it's producing in the field. Design tools such as Photoshop and Illustrator are becoming more easily accessible, especially with Adobe's Creative Cloud. This, in combination with the plethora of free resources and tutorials out there, allows for the growth in the amount of self-taught graphic design enthusiasts.
Also, the accessibility of resources is allowing for more people to start small businesses, websites, and blogs which mean more design work for graphic designers, web designers, motion graphic artists, and web developers.
How much do graphic designers need to understand coding and general web standards these days?
There are many successful graphic designers who have zero coding experience. However, it is highly recommended that graphic designers learn as much as they can about basic coding and web standards to make themselves more valuable to potential employers and clients. If a client needs a logo for a website, why not be equipped with the knowledge to offer to build the website as well? Doing so will open up many doors for job and networking opportunities that were previously unavailable.
How are new technologies (like HTML5) putting graphic design front and center again?
I'm not sure if new technologies are putting graphic design in the "front and center," but they sure are making graphic designers rethink their designs and how they function. With technologies like smartphones and tablets becoming more popular, graphic designers must be now be cognitive of how their designs will look on various sizes. Users now have control over the size of their screen and window browser, which means they have control over how they view a design. This is a dilemma designers did not have to previously deal with.
What's the most successful piece of content you've published on one of your blogs?
Our graphic design trends do really well. Check out the graphic design trends post.
What would you say to someone who isn't sure if they should go into graphic design?
The same thing I could say to anyone unsure about entering any field. Go for it! You will never really know until you experience it. Start designing right now and see how you enjoy that time spent. If it's something you're passionate about, one project will start leading directly into the next, and thinking about design will become routine. If this passion does not arise, I suggest giving something else a try.
Check out our graphic design page for more.
If someone had to ask, "What is graphic design," how would you answer?
I would redirect them to this page on our blog.