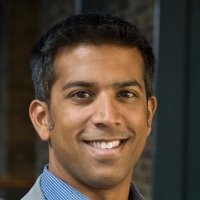 They say the key to becoming an expert is to practice a task for 10,000 hours—we actually give it to you in 10 minutes. Location-based marketing homes in on potential clients or customers in a specific area, broadening the experience for everyone. Some strategies are simple, others are phenomenal, and all make the point of contact a lot more personal. Today we're talking with an expert on the topic, Asif Khan, founder and president of Location-Based Marketing Association. Asif knows a thing or two about this growing industry, and you will too if you read on!
How receptive are consumers to location-based marketing?
We are seeing extremely positive consumer growth with regard to location-based marketing. Approximately 1/5th of the population now shares location at least once week to engage in location-based marketing.
Some consumers might feel that using location to target ads gives merchants a bit too much information about where they go and what they do. Can a business help consumers feel more comfortable with targeted marketing? Yes, I think this is a legitimate concern, but it can be easily alleviated by the business clearly articulating the value of sharing the data. This is especially true when the offer is tailored to the individual based on past purchase or location-data history.
Can you give a few examples of the most creative location-based marketing strategies that you've seen?
Here's an augmented reality project we just completed last week for Lancome.
This campaign for Lancome is a user-driven experience where participants can take and upload their own images to make the campaign grow.
eMart (korea) shadow QR code
This clever idea created a 3-dimensional QR code that Korean users could only scan during certain hours of the day. Lunchtime, in fact, when sales tended to drop. By scanning the code, participants got a discount at Emart.
Pennies for Life – blending DOOH, mobile and location
Pennies for Life had one of the most impressive location-based campaigns I've seen. This charity donates money to help the poorest women in Africa start their own business. Pennies for Life presented a partially-finished portrait of one African woman, composed entirely of pennies, on a digital display. When passersby texted a donation to the cause, pennies fell into place, which helped complete the portrait. Once a portrait was complete, one woman's business was funded. Then a new, incomplete portrait was revealed and the process began again.

How can businesses collect and interpret data about whether a marketing idea is really working?
There are several tools now for tracking location effectiveness. These include companies like VenueLabs and MomentFeed. Also, PlaceIQ has developed a new metric in partnership with Starcom Mediavest (one of the world's largest media buyers). It's called a PVR (place visit rate) and tracks the rate at which people see an ad in a mobile application, click on it, and then actually visit the store or location.
What are some of the better ways to use location-based marketing as a way to reach customers? For example, coupons or offers to buy tickets without standing in line, and that sort of thing.
There is an entire segment of location we refer to as IPS or indoor positioning systems. This works extremely well in large retail environments like a shopping mall or big box store like a Best Buy or Wal-Mart.
The idea is that GPS doesn't work well indoors because of walls, concrete, pillars – so we turn to technologies such as WiFi and Bluetooth. These solutions can be very accurate down to a few feet. Retailers are using these solutions for two primary reasons. The first is obvious–to engage consumers in specific aisles and sections of store to influence a purchase decision with an offer/coupon.
The second, is to use the technology completely in a B2B context, in terms of understanding the flow of consumers throughout your store. Where is the dwell time, what path do people follow, etc. This data can then be used to help determine pricing for external vendors in your store and other planogramming efficiencies.
Does social media play a role in location-based marketing?
Yes, absolutely. This is often overlooked. In many cases, brands spend a great deal on growing their following on Facebook or Twitter. The questions, however, must be, "Do you know where those fans are right now?" "How close are they to one of your stores?" and, "How do we get them in to buy something?"
How can a business get started in this huge sea of location-based marketing possibilities?
I think the simplest way to get started is for a business to take a look at their existing media plan for the year and to ask the question, "How can we use location to make each of the line items more effective?" Eg. If you're running a TV commercial, consider making it Shazamable. (Interactive Shazamable ads let users unlock new content.)

We appreciate the time and savvy, Asif. I appreciate learning a new word! In fact, I plan to use Shazamable in a sentence today. 
Carole Oldroyd is a freelance writer whose work includes location-based marketing and many other topics.