Archive for September, 2017
Influencers are industry leaders who yield great power online, a power so great, businesses are pining to work with them whenever they get a chance. With only a few keystrokes and a couple of mouse clicks, an influencer can expose brands to thousands of people they would never have access to otherwise.
There is a problem, however. How many busy, popular A and B-list internet celebrities will give your brand the time of day? You may be surprised to learn that many top influencers are willing to partner with brands like yours to help them get exposure. And we listed a dozen+ of them below.
Our list is comprised of either influencers we have worked with before, ones we have researched online, and others whom we have heard about from word-of-mouth.
At the end of the article, we also outlined some quick tips on how to get access to these influencers and what to avoid if you want to get their attention.
Let's go!
Gini Dietrich
Industry: PR / Marketing / Communication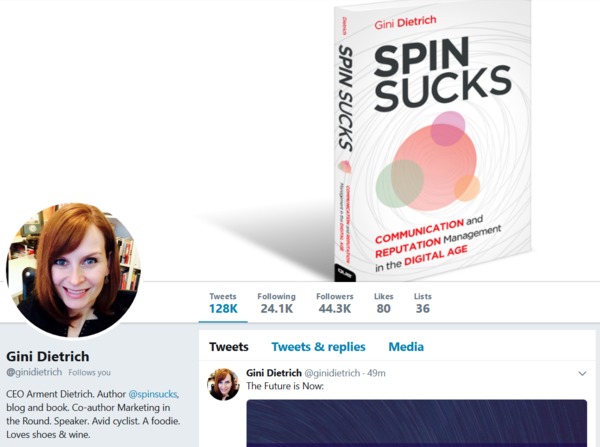 Gini Dietrich is the founder and CEO of Arment Dietrich, a digital marketing and communications firm that provides alternatives to traditional marketing communication. She is also the author of Spin Sucks, which is a popular blog and a book, and she has worked with enterprise clients such as Sprint, GR, and Abbott. She also provides professional development for marketing and PR professionals.
Contact Information:
Twitter: @ginidietrich
LinkedIn: Gini Dietrich
Accepting contributor submissions
Henneke Duistermaat
Industry: Digital marketing / Copywriting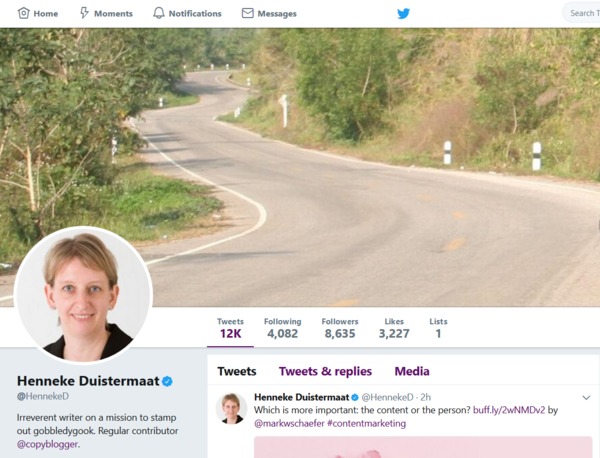 Henneke Duistermaat is a prolific writer/blogger/copywriter and the founder of Enchanting Marketing. She was featured as one of 11 "digital marketers to watch" by AWeber and named one of "50 Incredible Women in Marketing to Follow" by Search Engine Journal. She has also contributed to sites like Copyblogger, KISSMetrics, and Entrepreneur and has been interviewed for Inc.com and Forbes.com. She also wrote two popular books, Blog To Win Business and How To Write Seductive Web Copy.
Contact Information:
Twitter: @HennekeD
LinkedIn: Henneke Duistermaat
Email: [email protected]
Kim Garst
Industry: Social Media Marketing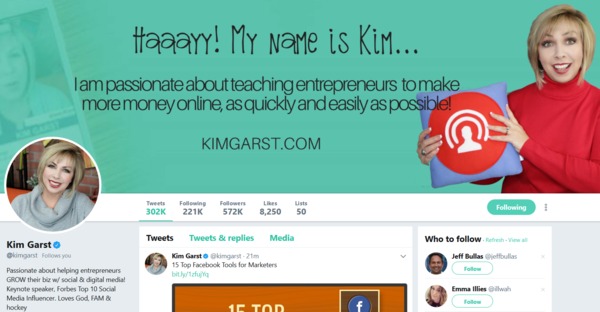 Touted by Forbes as one of the Top 10 Social Media Power Influencers, Kim Garst of kimgarst.com is a best-selling author and international speaker. She provides social media and digital marketing education and strategy to top brands like Microsoft, Mastercard, and IBM. She sells products to help brands with their social media marketing and runs live Facebook classes and webinars regularly…and she always does it with a smile.
Contact Information:
Twitter: @kimgarst
LinkedIn: Kim Garst
Facebook: kimgarstbiz
YouTube: brandyoucommunity
David Meerman Scott
Industry: Business strategy (sales and marketing)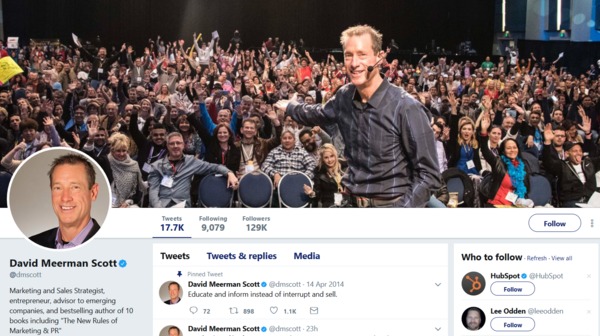 David Meerman Scott is a marketing and sales strategist, and the author of 10 books and three international bestsellers including Real-Time Marketing & PR, The New Rules of Marketing & PR (now in its 6th edition with 375,000 copies sold), and the Wall Street Journal bestseller, Newsjacking, World Wide Rave. David helps brands get attention, stand out and get noticed.
Contact information:
Twitter: @dmscott
LinkedIn: David Meerman Scott
Email: [email protected]
Melinda Emerson
Industry: Small business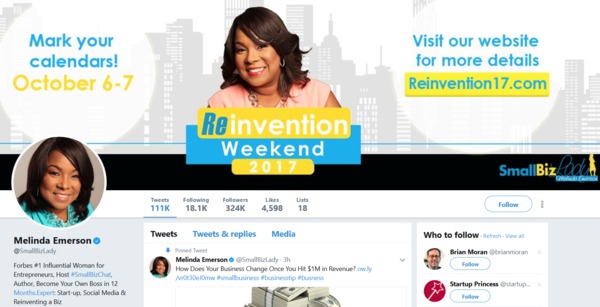 Known as the "SmallBizLady," Melinda Emerson is a 15-year entrepreneur, small business expert and international keynote speaker. Named by Forbes magazine as the #1 woman for entrepreneurs to follow on Twitter, Melinda is also quoted in publications like the Wall Street Journal, Fortune, MSNBC and Fox News. She is also the bestselling author of Become Your Own Boss in 12 Months and blogs regularly at succeedasyourownboss.com.
Twitter: @SmallBizLady
LinkedIn: Melinda Emerson
Jane Friedman
Industry: Digital media strategy / publishing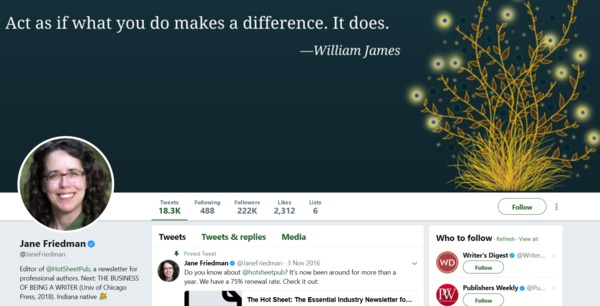 Jane Friedman is a 20-year veteran in digital media publishing and a columnist with Publishers Weekly. She has previously worked for F+W Media and the Virginia Quarterly Review and has been interviewed by outlets such as PBS, CBS, The Washington Post, and the National Press Club. She helped produce The Authors Guide to E-Publishing and runs a successful blog at JaneFriedman.com.
Contact Information:
Twitter: @JaneFriedman
LinkedIn: Jane Friedman
Bryan Kramer
Industry: Social / Marketing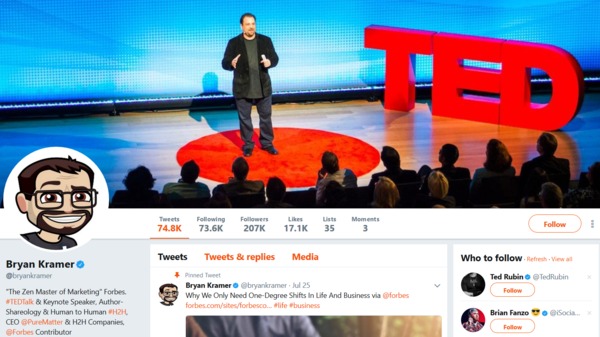 Known as "The Zen Master of Marketing," Bryan Kramer, international speaker and one of Forbes Top 25 influencers to follow, is credited with starting the #H2H human business movement in social marketing. His first book, There is No B2B or B2C: It's Human to Human #H2H was a bestseller in its category in its first week on Amazon. His latest book, Shareology: How Sharing is Powering the Human Economy, made the USA Today's Top 150 Book List the first week of its launch. Bryan is also the CEO of Pure Matter, a social, influencer marketing and consultation company to help businesses humanize and promote creativity.
Contact Information:
Twitter: @bryankramer
LinkedIn: Bryan Kramer
Steve Strauss
Industry: Small business journalism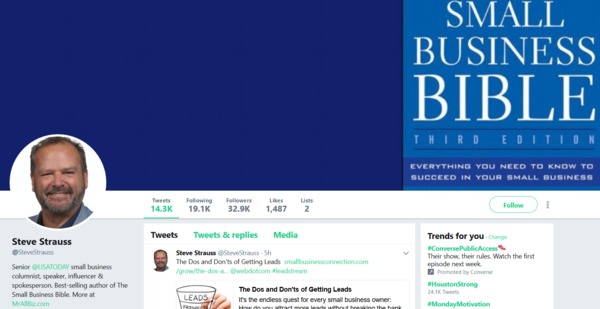 Steve Strauss is a senior small business columnist for USA TODAY, international speaker and author of 16 books including bestselling The Small Business Bible. He runs Strauss Content Co. where he creates content for top brands such as Microsoft, Bank of America and Staples.
Contact Information
Twitter: @SteveStrauss
LinkedIn: Steve Strauss
Jeff Bullas
Industry: Social media / Digital marketing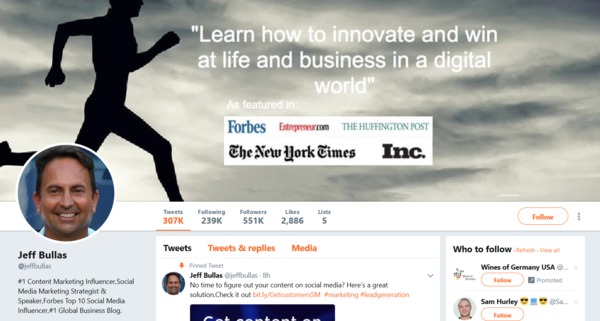 Listed as one of Forbes' top 20 influencers of CMOs and featured on Inc.com's "20 Digital Marketing Experts to Follow on Twitter," Jeff Bullas draws millions of followers monthly to his online properties. His blog, JeffBullas.com, provides top-level information on all aspects of digital marketing, and according to Bullas, his mission is to educate people on "How to win at business and life in a digital world".
Contact Information:
Twitter: @jeffbullas
LinkedIn: Jeff Bullas
Website contact and accepting guest contributions
Nathan Chan
Industry: Entrepreneurship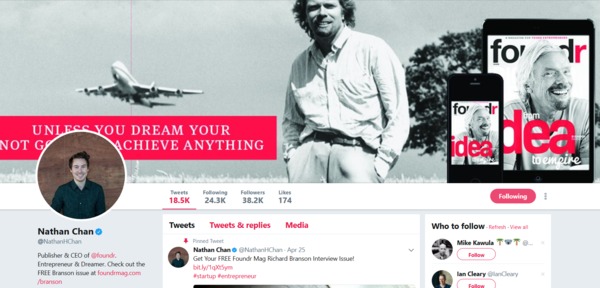 Nathan Chan is the founder of Foundr, a digital magazine for young entrepreneurs with some of the world's top entrepreneurs gracing its cover such as Robert Herjavec, Richard Branson, Tony Robbins and more. Known for his 1.1M+ Instagram followers and an active Facebook community, Nathan also sells products instructing business owners on how to leverage the internet to grow.
Contact information:
Twitter: @NathanHChan
LinkedIn: Nathan H Chan
Brian D. Evans
Industry: Business / Entrepreneurship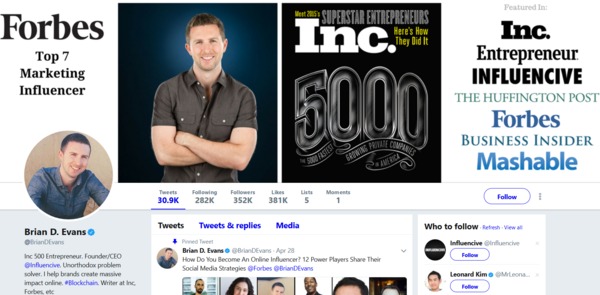 Brian D. Evans is the founder of Influencive, a popular blog and international community focused on teaching brands how to generate awareness and leverage influencer marketing. A #7 Marketing Influencer on Forbes, Brian also runs an advertising and marketing agency, BDE Ventures, that was recently ranked #172 on the Inc. 500 list of fastest growing private companies.
Contact Information:
Twitter: @BrianDEvans
LinkedIn: Brian D. Evans
Kiersten Rich
Industry: Travel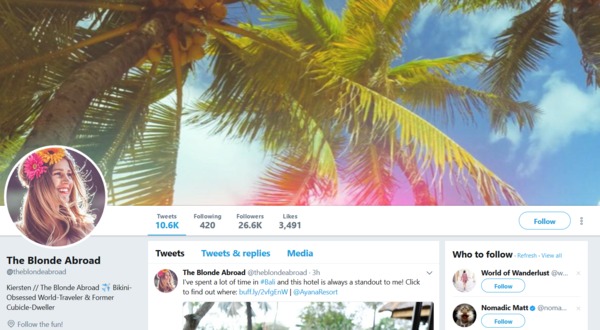 California travel blogger, Kiersten Rich,  at 22 years old, has traveled to more than 50 countries and has chronicled her adventures along the way. She posts for her nearly half a million Instagram followers and on her blog, The Blonde Abroad. Her success has taken her all over the world and landed her in Bali where she co-hosts elite blogging retreats and travel tours.
Instagram: theblondeabroad
LinkedIn: Kiersten Rich
Twitter: @theblondeabroad
YouTube: TheBlondeAbroad
Simeon Panda
Industry: Fitness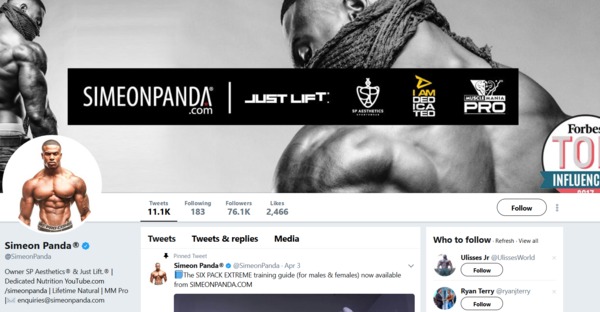 Simeon Panda is an internationally-known fitness professional and entrepreneur and the owner of SP Aesthetics Sportswear ® and Just Lift ®. Known by Forbes as one of the top 10 influencers for fitness, Simeon has been featured in major fitness publications like MuscleMag, Muscle-Insider, and Fitness RX, and appeared live on TV shows and hosts worldwide seminars.
Contact Information:
Twitter: @SimeonPanda
YouTube: SimeonPanda
Instagram: simeonpanda
Facebook: simeonpanda
LinkedIn: Simeon Panda
Email: [email protected]
Lily Diamond
Industry: Culinary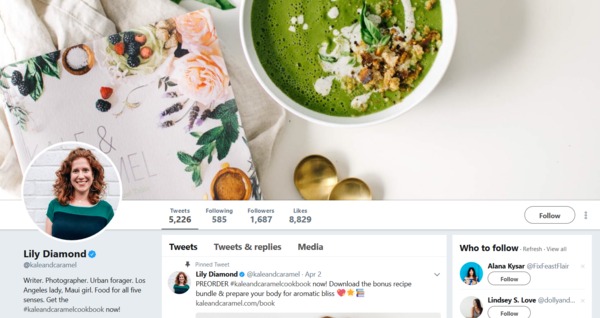 Lily Diamond is a Los Angeles food blogger known for bringing the tastes of the land into her exquisite dishes. She crafts and posts her recipes on her blog, Kale & Caramel, food for all five senses, and also posts for her 54K engaged Instagram followers.
Instagram: kaleandcaramel
Twitter: @kaleandcaramel
LinkedIn: Lily Diamond
Email: [email protected]
Shalice Noel
Industry: Fashion and Lifestyle
Shalice Noel is a popular fashion and lifestyle blogger, stylist and mother of four children. Her blog, shalicenoel.com showcases her fashion style and lifestyle to her 200K followers where she posts her latest outfits and family stories.
Contact information:
Instagram: shalicenoel
Twitter: @shalicenoel
Email: [email protected]
Quick Influencer Contact Tips
To increase the chances of influencers working with you, here are a few quick tips:
- Get to know them – Don't contact influencers before you have a chance to get to know their brand. They can spot "fake" a mile away and they respond to brand love, only if it is genuine.
-  What's in it for them? – If you message them and you don't yet know how they can get value out of the relationship, you won't get a reply.
- Make it quick – Influencers are busy. If they see a long, drawn out message, they will chuck it.
- Let them speak – If you contact influencers because you have a product/brand fit, don't expect them to use your messaging outright. They may not expose their brand to content unless they have a hand in creating it.
Another effective way to get exposure is to request to guest blog on the influencer's website/blog. I listed some links to guest blogging opportunities in the influencers' profiles above. Guest blogging is a way to show the influencer your interest and start the relationship off by giving them valuable content for their audience. In return, you will also get some exposure.
Get To It!
Influencers generally aren't opposed to working with you to help you get exposure. As long as you keep their needs in mind and you treat their brands as careful as you would your own, you can develop influencer partnerships that will boost your brand and help you generate awareness and sales. Good luck!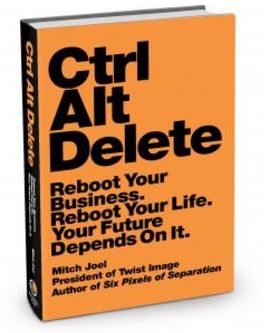 Mitch Joel knows that brands– from small to large; B2B or B2C– that are trying to navigate the ever-shifting landscape of digital marketing feel like they're in hell.
But from where he's sitting– they're just in purgatory. That is to say, they see the value and importance of things like mobile, social and artificial intelligence– but doing little about it.
So what do companies need to do to get out of purgatory?
"Everything," Joel says.
He offered the example of picking up your phone to search for a store's hours.
"You can swipe right or left to find someone to have sex with in minutes, but you spend five minutes trying to find when a store opens."
Too often, customers have to do things like spending extra time navigating a website that hasn't been optimized for their smartphone because the brand is still stuck in purgatory– partially aware of digital transformation, but not acting on it. Thinking they're focused on automation and personalization, without truly deploying automation and personalization.
A Rock Star of Marketing
Joel is president of digital agency Mirum and the author of two books on digital transformation– Six Pixels of Separation: Everyone is Connected. Connect Your Business to Everyone and Ctrl Alt Delete: Reboot Your Business. Reboot Your Life. Your Future Depends on It.
Dubbed "The Rock Star of Digital Marketing" by Marketing magazine, Joel has made it his business to know what lies ahead in the world of digital. He's frequently called upon by brands including Google, Walmart, Starbucks, Proctor & Gamble and Twitter to share his insight on the always-evolving world of marketing.
It's not that Joel doesn't understand the frustration marketers feel as they try to embrace digital change.
There's not only the need to shift or even overhaul the technology infrastructure, but also the people using this new technology all have to adjust to a learning curve. The core competencies of marketing professionals have been amplified– an understanding of analytics and measurements is essential. And in the midst of all this, marketers can't just focus on the work of today; they have to focus on the work of tomorrow– looking ahead to the potential for artificial intelligence, machine learning and augmented reality. All jobs and skillsets that fall outside the traditional role of marketer.
It's super challenging to keep up with evolution, Joel says.
But it's important to remember that when it comes to these new technologies it's not as if you don't do it now, you die.
Joel quotes his favorite line from Wired magazine executive editor Kevin Kelly: "Technology happens very slowly and then all at once."
"There's a sense among people that it's all happening right now," Joel adds. "There is more runway than people think."
Marketing professionals can prepare for the future right now by reading and re-reading. The access we all have to thinking is profound, Joel said. Whether it's blogs, podcasts or webinars there are endless opportunities for learning.
"There's nothing stopping anyone today from empowering themselves, for free, with the best of what's out there," he said.
The Road Ahead
Looking in his crystal ball, Joel says there are several technology innovations that are catching his attention as a digital marketer.
"Voice is a big bucket for me," he says. "It's going to be the next way we navigate technology."
He's also interested in the automation possibilities of machine learning and artificial intelligence– outsourcing tasks that a computer can do and learn on its own without human programming or direction.
Finally, he's looking forward to the day brands embrace mobile– offering a better mobile experience than web experience rather than just a web experience that's been adapted to mobile.
As they wait for the future to arrive, Joel says marketers are best served by keeping their central mission in mind: Getting new customers and growing current customers. To do this, they need to think about how they're using their data.
"It starts with, are you using analytics as a way to get a look and feel about what happens on a campaign as opposed to using them to benchmark what's happening in real time?" he says.
Marketers need to go everywhere and figure out what matters most to their customers then get their 500 or 5,000 best customers to market for them. The best brands figure out who their audience is, and then becomes a part of that community.
As he told retailers gathered at Google Dublin in 2015:
"Every day you are not trying to get a conversion, you're trying to build a direct relationship with your customers."
Need help with your content marketing? Begin your Free Trial today with Media Shower!
At a Glance
What is a content marketing platform? 
Why are they important? 
When do I need one?
An in-depth look at the most popular platforms, pricing, and features
Scaling an ROI-driven content marketing campaign to profitability without the help of an organized tool or platform is similar to moving to another country without a plan, budget, telephone or means of transportation.
If you create and publish content regularly with the goal of scaling your company profits, can you answer the following questions?
Who is creating each content piece you distribute?
Where are you distributing it and for what purpose?
How well is each piece performing?
What is your ROI?
What does the next three months of content planning look like?
What team members are involved in each part of the process? 
If you can't come up with a definitive answer for ALL of these questions or you think they are not important, you may be in dire need of a content marketing platform.
What is a content marketing platform?
Content marketing platforms (CMPs) were developed in response to the common challenges facing content marketers. These challenges are numerous but they typically involve the following:
Time and budget constraints
Strategy
Finding freelancers
Chaos with current systems; no workflow
Content distribution
Content publishing
Measuring content effectiveness and ROI
A content marketing platform helps with one or more of these challenges giving marketers the ability to effectively launch organized and measurable content marketing campaigns from lead generation to content impact and everything in between.
To help blast through these challenges and tasks, content marketing platforms deliver the following features:
Strategy (Keywords, personas, topics)
Content creation
Team member networks (writers, editors)
Planning, management and workflow
Editorial calendars
Automated scheduling and distribution
Tracking and analytics
Some CMPs offer a few of the features while some offer all of the above. The CMP you adopt will depend on which features you need and where you need improvement.
For example, if you run a small business and you are a young content marketer, you may want to do the content creation yourself to save money but use a platform to plan and manage your schedule. In this case, a platform that offers scheduling, editorial calendars and planning will suit you.
Or maybe you already organize your content but you have been using multiple programs such as Google docs, Trello, Slack and others. You want one comprehensive interface that allows you to combine the benefits of all of these tools into one platform, saving you time and maximizing efficiency.
Maybe you are ready to "systematize" your entire content process. If so, you may want a full-scale platform that offers content creation capabilities, planning, distribution, publishing and tracking all from the same tool.
If you are wondering which tool is right for your organization, later in this article, I will discuss what features each content marketing platform has and what type of business each is suited for.
Why are content marketing platforms important?
Content marketing platforms simplify campaigns and allow you to re-invest your time and resources back into revenue-driving activities instead of manual tasks. CMPs help you organize and automate your content campaigns, providing easier workflow and seamless experiences.
Content marketing platforms also provide much-needed structure to campaigns. With so many working parts, it's impossible to keep track of where each piece of content is in each cycle, who is responsible for what, whether it is ready for publish and how it performed. CMPs manage these processes and keep them running efficiently and smoothly, saving you time, resources and energy while giving you complete control over your campaigns.
For larger organizations, content marketing platforms will keep brand messaging consistent across all channels, a difficult feat without the assistance of a solution that brings all channels together under one cohesive hood. In addition, CMPs increase internal visibility so all content team members have eyes on each piece of content and where it is in its cycle. CMPs keep the content process flowing and organized and allow teams to collaborate directly within the platform interface.
When is it time to use a content marketing platform?
If you just started your business and you are not getting much traffic, you may not need a content marketing platform. But, as your traffic grows, you may find that it's difficult to keep your content marketing running smoothly without one. Tasks go undone, your brand messaging is disjointed across all content and you don't know which campaigns are working and which ones aren't. These are not uncommon challenges for today's content marketers. But, no worries…they are easily solvable—with the right content marketing platforms.
In this article, we will dive into some of the popular platforms available to companies of all sizes. Find out which ones are right for your unique organization, whether you are bringing in six figures or less or you are at the enterprise level.
What platforms are available?
In this article we will discuss the content marketing platforms in three general categories:
Planning and collaboration
Planning, Management and distribution
Full-scale platforms + services
Let's take a look at each of these in more detail:
Planning and collaboration
The planning and collaboration tools are perfect for the businesses that want an interface to help them manage content flow and communicate from within one interface. If you need some organization, but you are not interested in large-scale distribution or content creation, these are the tools for you.
Kapost is a B2B marketing platform that provides workflow management and communication, helping you turn content chaos into a structured workflow. Kapost also offers some distribution and analytics features as well. Kapost is geared toward solving the challenges of larger enterprise-level organizations, helping them gain more visibility, reduce silos and bring organization and team collaboration to their content marketing processes.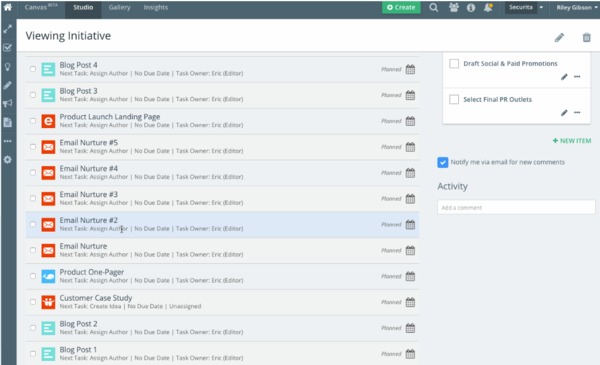 Pricing:
Pricing starts at $3,500 / month.
DivvyHQ is a streamlined platform that acts as a hub for content strategy, planning, scheduling, workflow and collaboration. With its real-time dashboard and master editorial calendar, members can gain more visibility on what is happening and ensure brand alignment across all objectives. The tool also allows you to publish directly to popular content channel and social platforms. DivvyHQ customers range from mid-sized to enterprise level companies.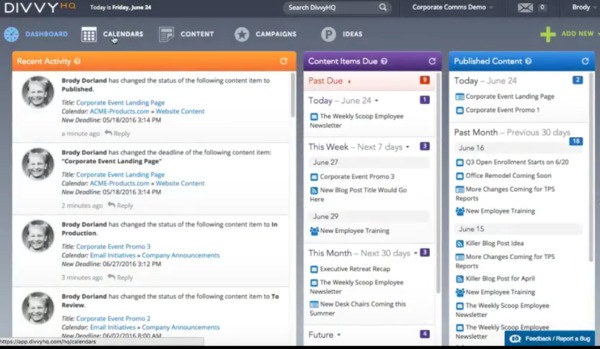 Pricing:
Pricing starts at $30 / month and maxes out at $2,500 / month for unlimited users. Discounts offered for annual billing. Free 14-day trial.  $1,500 onboarding fee required for new customers.
Coschedule is a content marketing calendar that facilitates planning, scheduling and organizing content from one interface. It also posts social content on popular platforms with scheduling and analytics capabilities. One unique feature, re-queuing, finds gaps in your social posting calendar and allows you to re-share your best evergreen content. This tool is ideal for the small businesses, marketing professionals or agencies that want to manage content workflow for clients.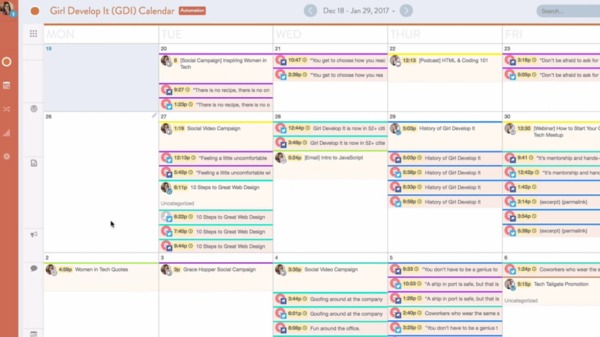 Pricing:
$39 – $1,600 / month + extra for re-queuing feature; 14-day free trial and annual discounts offered
Planning, Management and Distribution
The planning and distribution platforms may include planning, collaboration and scheduling similar to the tools we just discussed, but they are mainly robust publishing engines that help you manage your content on the web and interact with social users. If you are looking for a platform that automates your content publishing, these are the tools for you.
Sprinklr prides itself on bringing a more unified experience to your customers (customer-focused) by including features that allow easy customer experience management. Its features touch all facets of customer interaction such as email, website, and CRM (customer relationship management).  It publishes to 21 social channels and gives brands the ability to market, advertise, sell, research, serve customers, gain customer insight, publish content, and review analytics all from this one tool.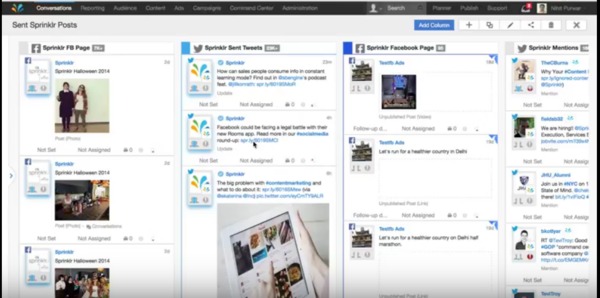 Pricing:
Unlisted; Request a free demonstration for more information
SproutSocial is a comprehensive social media management platform that fosters customer engagement and service, internal organization and collaboration, as well as the automated distribution and measurement of content. It also offers a social CRM that captures follower contact information and interaction history. SproutSocial provides solutions for businesses of all sizes from small to mid-sized and enterprise as well as agencies.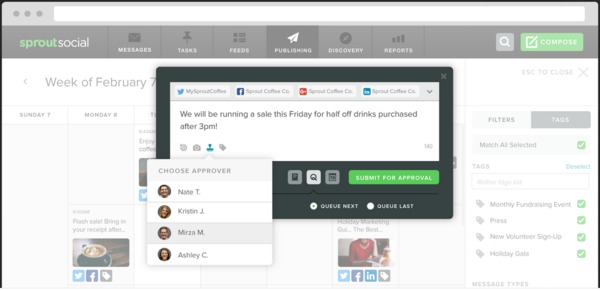 Pricing:
Plans start at $59 per user / month and max at $249 per user / month. All plans include a 30-day free trial. A 10% discount is offered for annual billing.
Hootsuite is a social media management platform similar to SproutSocial except it has more integrations and offers a contest feature. However, Hootsuite does not include a social CRM like SproutSocial. Hootsuite also caters to a wide range of business sizes from individual and entrepreneurs, to small teams and businesses to enterprise level companies.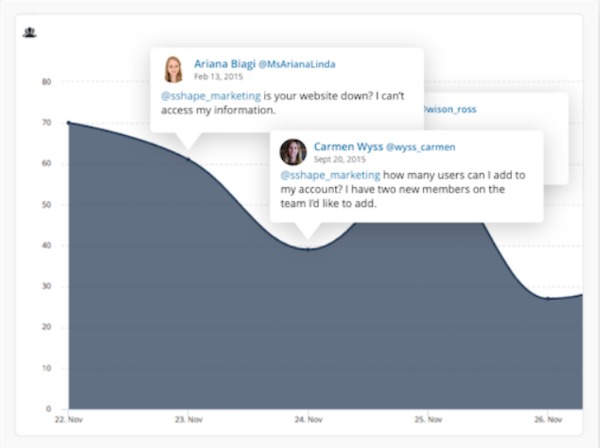 Pricing:
Free limited plans offered maxing at $499 / month for annual billing. Free 30-day trials offered for lower plan levels. Enterprise-level solution pricing is custom and unlisted.
Full-scale + Service
The full-scale + service solutions offer all facets of content marketing from content ideation and production all the way to distribution and measurement. These platforms can also include content creation and/or a freelancer database, planning, strategy, management, tracking, collaboration, distribution and measurement. These platforms are ideal for the business that wants an all-in-one solution with additional services, if offered. Some solutions offer a self-service option.
Contently is a full-scale platform that provides a complete content marketing solution from start to finish. It includes a network of freelancers you can choose from to work with you on your campaigns. Assign content to external or internal contributors, plan and share your editorial calendar and solicit content ideas from its network of freelance talent. Create custom workflows to streamline approval processes and increased visibility, define roles for contributor, edit content, collaborate directly within the platform and publish content directly by connecting with your CMS. The platform also offers analytics features and a mobile application. You can also hire the company to assist you with strategy, editorial, distribution and research.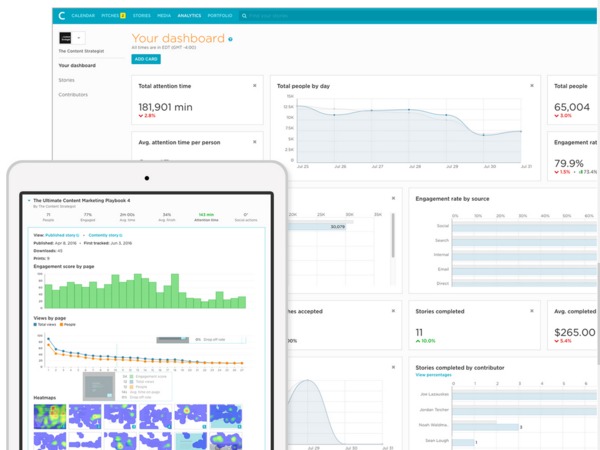 Pricing:
Unlisted; Request a free demonstration for more information. As reported by Hubspot, quoted from co-founder, Shane Snow, prices can range from $3,000 – $25,000 / month.
Skyword is another full-scale platform that includes a complete content marketing solution for your campaigns. Its network of freelancers allows you to source top content creators, and communicate with and manage them throughout your campaign's lifecycle. Skyword also offers content ideation, a centralized calendar system, collaboration, content management, automated scheduling and distribution, analytics and personalized content recommendations for website visitors to increase conversions.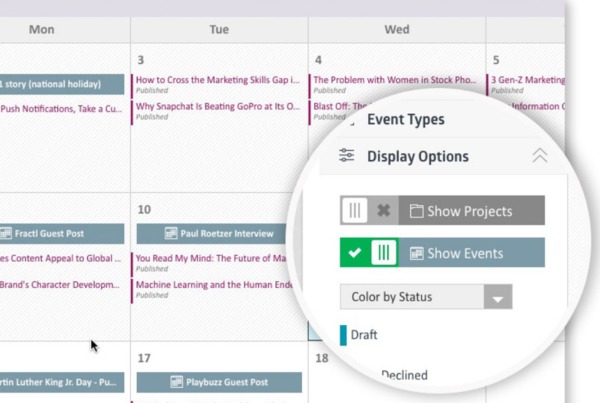 Pricing:
Unlisted; Request a free demonstration for more information
Media Shower is our full-scale content marketing optimization platform that helps businesses get real measurable and repeatable results from their content marketing campaigns. We analyze your content and optimize it to increase conversions and engagement, especially those pieces that are not performing up to industry expectations. We also track traffic, conversions and engagement and show you how your content stacks up against other content marketing programs. For the ultimate self-service experience, we offer automated conversion optimization, A/B split testing, a dedicated editorial team, content development, content promotion and monthly strategy calls.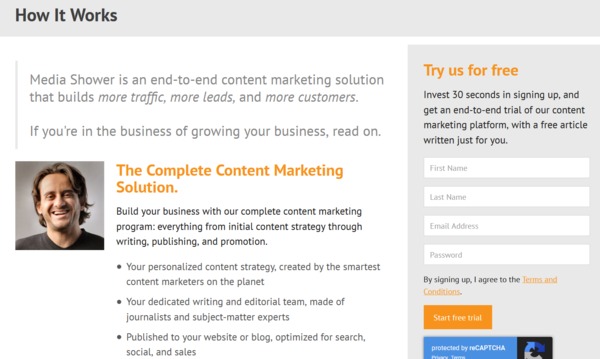 Pricing:
Packages start at free and scale to enterprise level. Contact for enterprise pricing.
Download the Worksheet
Whether you need one writer or a full-scale solution, you should integrate your ROI-driven content marketing campaigns with a platform that can help you get more efficient, save time and money and track your results. To see a full list of all the content marketing platforms we discussed in this article, along with a comparison of the features and pricing, we've created a handy worksheet for you. It's totally free after sharing some basic info with us:
Part of getting more eyeballs on your blog posts and other content is by getting people to share them. But sometimes it's challenging to figure out exactly what makes for shareable content. Use these tips to test out different strategies and see if you don't increase your shares!
1. Start With Really Insightful Content
Okay, I admit: this is not a news flash. Any blog article about content marketing will tell you: write great content. And yet…there is so much content out there that is nothing more than recycled words of what everyone else is saying.
How can you be different? How can you be unique?
Write what no one else is. Admittedly, that's challenging, given the glut of content on the internet. But you can take a topic others have covered and find new angles or opinions. What do you think about Topic A? What experience or stories do you have about Subject B? This personalized commentary will make your articles stand out.
2. Get the Ball Rolling
You should be sharing every piece of content you publish, and there are a few reasons why. First, it can introduce the content to people in your social network who wouldn't otherwise have seen it. And second, it makes it even simpler for others to share it. How much easier is it to retweet or click to share on a social media post than to craft their own share from scratch? Make it effortless for others to share your content simply by starting the share for them on social media.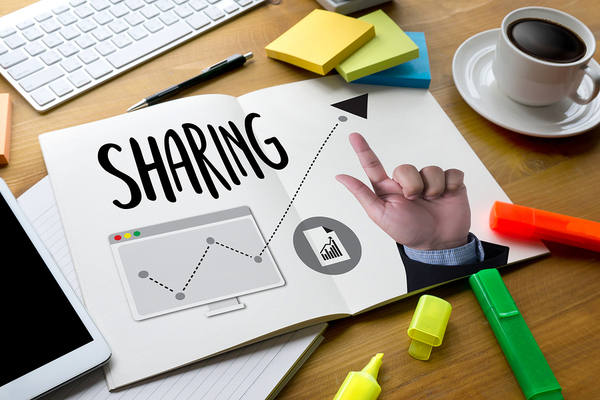 3. Ask Them To
Do you have a handful or more of loyal customers or business contacts? Do you think they would be willing to share content if you asked? Sometimes all it takes is asking.
Here's an easy strategy: any time you have content you want shared, craft an email to send those all-star contacts. Explain what you're looking for (to spread your content far and wide), and then include several pre-written social media updates for them to copy and paste. You can even use a tool like Click to Tweet, where you simply write the message you want shared on Twitter, and your contacts click the link to share it on their own accounts.
This strategy is especially good if you have a special promotion or event going on. Long-term, it might be a lot to ask of people to constantly share your content, though it could start a happy habit!
4. Use a Fun Graphic
Have you ever been on social media and seen a really fun image? The one that's catching my eye on Facebook right now is this ad from CMO.com with an old-school graphic of Wonder Woman. Every time I see the ad, I hear the Wonder Woman theme song in my head! People are drawn in by images, and if you use the right one when you share your content on social, you can boost shares.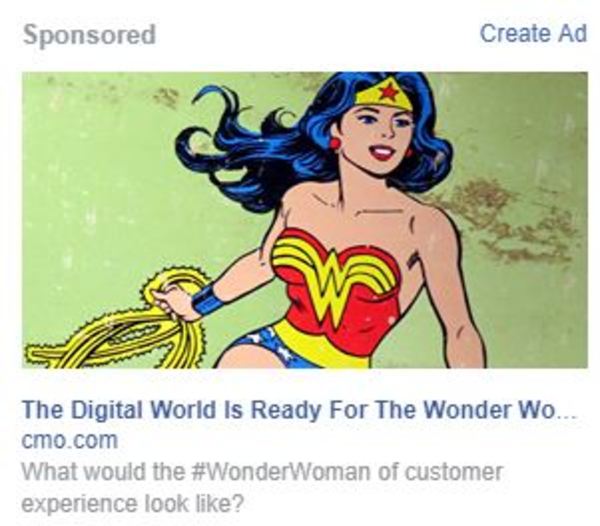 Remember, too, to use engaging photos in your blog post, since those can also be used to promote your content share.
Getting your content shared doesn't require millions of followers. It simply requires you to write valuable content and make it easy for others to spread the word about it.
Ready to launch your content marketing campaign? Get a free trial of Media Shower to get started.
We often think of content marketing as a creative or artistic pursuit — and it is. But, as it turns out, there's also some pretty impressive science behind successful content marketing. If you want to build brand awareness, generate more ROI, and inspire more conversions, put on your lab coat and a pair of those ugly safety goggles and dive into the science with us.
Vanity Metrics Might Matter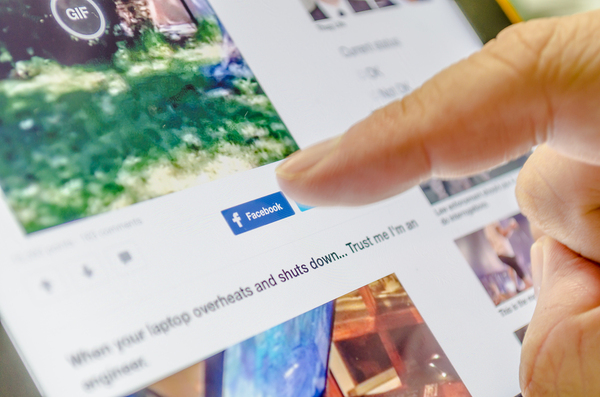 Count those likes and shares as much as you want.
It turns out that social shares — what many marketers consider to be vanity metrics — might actually carry some scientific weight. BuzzSumo and LinkedIn partnered in a study that discovered that shares actually correlate to a piece of content's success.
When people share your content on social media or through other channels, they're sharing your brand with their audiences. More brand awareness can lead to better brand visibility and, ultimately, more conversions.
In that same study, they discovered another surprising fact: There's no correlation between social shares and backlinks. In other words, just because a lot of people have shared your content on social media doesn't mean that you'll get lots of backlinks from other sites.
What Can We Learn From This?
It's okay to track social shares if you want to better understand your brand's visibility. Additionally, you can't rely on social shares to generate backlinks, which can help with brand visibility as well as search-engine rankings. Instead, you must treat those two metrics as separate and promote them accordingly.
Controversial Content Doesn't Necessarily Drive Backlinks
Many marketers use controversial content to inspire discussions and generate backlinks. The research shows, however, that newsworthy and forward-thinking content actually brings in more links than controversial content.
However, the study also revealed that simply posting the news won't earn backlinks. Too many other websites do just that. Instead, the posts in the study that earned the most backlinks focused specifically on authoritative and well-researched assertions.
What Can We Learn From This?
If you want to generate more backlinks from other websites, skip the controversy and aim instead for forward-thinking articles that include lots of data to back up your claims. Data-rich articles often draw backlinks from domains with high authority, such as educational sites, which can boost your position in the SERPs.
Headlines Still Matter — But in a Different Way
You've long heard about the value of a killer headline, and that piece of advice still rings true. According to the research, however, two specific types of headlines perform better than others:
Data-driven headlines get more shares and backlinks. Go ahead and put a number in the headline. It gives the article more credibility and attracts more eyeballs.
Power words can help generate conversions. In terms of B2B content, the headlines that drew the most attention included words like "leader," "success," "power," "future," and "trends."
According to LinkedIn and BuzzSumo, these two factors act as signals to B2B audiences. They let the readers know exactly what they can get from the article, which makes those headlines more clickable.
What Can We Learn From This?
Optimize your headlines to include data-driven assertions and power words. You can't do this with every piece of content you create, but you might use these strategies with cornerstone content and other big pieces.
Just make sure that you source your data from reputable websites (or from your own research). Additionally, use power words sparingly. If they become too common, you'll just look like you're trying to game the system.
The Best Post Types Vary By Industry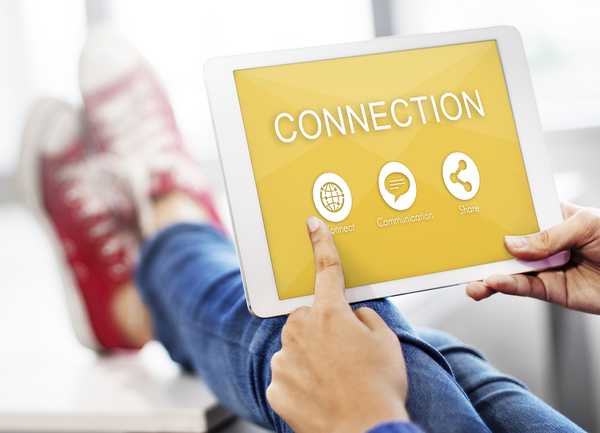 If you want to connect with your audience, share the types of posts that gain the most traction.
You might have heard that a certain post type, such as a listicle or an infographic, performs better than everything else. The research doesn't bear out that assertion.
In their study of 40,000 top-performing marketing posts and 40,000 technology posts, LinkedIn and BuzzSumo discovered that the most-shared post types varied considerably between the two industries.
In the marketing sphere, the posts that garnered the most engagement were how-to, top-10, guide, list, and infographic posts. Among technology audiences, however, there were far fewer discrepancies between the different types of posts.
What Can We Learn From This?
If you want to succeed in content marketing, you have to do your own research. The post types that work for one industry might not work for yours. The only way to find out is to experiment with different post types, then track the metrics to figure out which ones receive the most engagements, shares, and backlinks.
It looks like data-backed research can have a major impact on a creative, artistic medium like content marketing. If you're not paying attention to the science, you might fall behind your competitors.
Of course, working with a digital marketing agency like Media Shower can help you gain momentum. We're experts at creating data-rich, informative articles that get shared and drive conversions. Get a free trial to find out for yourself.
How many times in your life can you say you were taking a leisurely neighborhood stroll through your city and you happened upon 50,000 pounds of sugar peacefully resting on your sidewalk?
If you were in Times Square in New York City recently, that's exactly what you saw—along with zombie-looking statues of children made out of—you guessed it—more sugar.
The snack brand KIND is at it again. After its out-of-the-norm, socially-conscious bubble-popping campaign, it has now moved from mouth-blowing to jaw-dropping with its enormous sugar-ified marketing display, smack dab in the middle of one of the busiest places in the world.
The sugar mound is three stories high and 24 feet wide. Surrounding it are white-powdery statues of children and signage detailing facts about the health dangers of sugar. Messages like these circled the display:
"Children in the US are eating 4.7 billion pounds of added sugar every year. That would cover 1,740 football fields."
"Children in the US are eating 13.1 million pounds of added sugar every day. That would fill 273 yellow school buses."
KIND's purpose with this marketing stunt was to first raise awareness of the dangers of ingesting added sugars. The 45,485-pound hill of sugar depicts the amount of added sugar children in the U.S. eat every five minutes.
Here is one of the signs: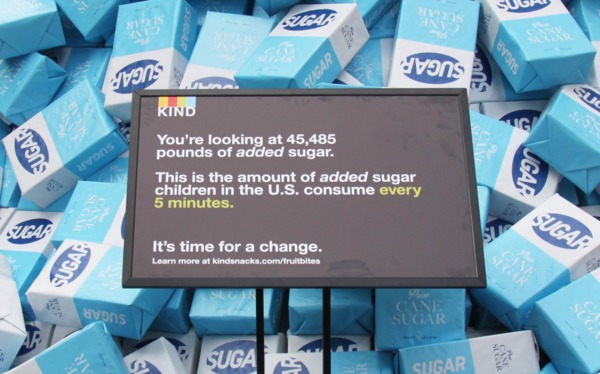 Source
But, the real purpose behind the stunt was to advertise its KIND fruit bites, which you can imagine has zero added sugar. As patrons walked around the display shooting pics and sugar-mound selfies for their Instagram profiles, KIND employees walked around handing free samples of the new snacks to bystanders.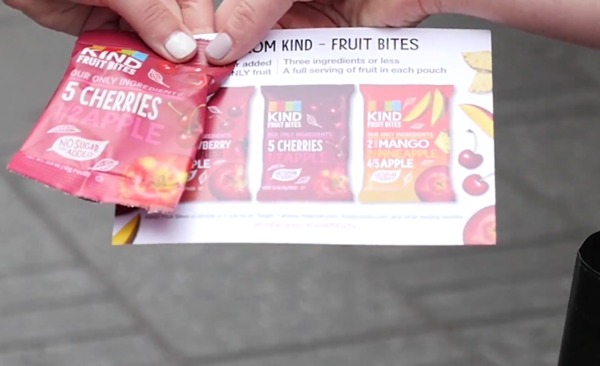 Source
Although I know this display brings awareness to an important topic, I can't help but think of how clever the marketing team at KIND was to erect it. So here are some content marketing takeaways you can learn from KIND's campaign:
Know your problem and provide a solution – What industry problems are you solving? The deeper you understand what issues you are providing solutions for, the more successful your marketing will be. KIND knows that its audience is looking for healthy alternatives to sugary snack foods. So it magnified the problem and showed how ugly it was (visually!) while providing a solution right there on the spot—its added-sugar free tasty snack alternative.
Create an emotional connection – Are you evoking an emotion from your targets with your content? With this marketing display, KIND's main target was parents. And it skillfully tugged on parent's heartstrings by visually displaying how much sugar their children can consume in one year—if they continue on the same junk-food-laden diet track. The brand knew how to emotionally connect with parents by evoking the emotions of the love and care they have for their children.
Go BIG or go home – Okay, not every content campaign you run will be Times-Square worthy, but the point is to get a little creative with your campaigns. Don't be afraid to push your boundaries a little to test out some new creative. You don't have to create Times Square statues to do it, but think outside of the box a little and see what you come up with.
Here at Media Shower, we don't erect Times Square statues… yet. But, we do think outside of the box and create content marketing campaigns that get results—without requiring city permits. If you want to take a try and see how sweet we can really be (yes, I went there), let us give you a free "taste" of what we have to offer. Get a free trial of our platform here and receive a free content analysis, content ideas, one optimized custom piece of content that is yours to keep, and a promotion plan. Yup, all free. We will see you on the inside.
Are your landing page conversion rates high enough? Do you know what your industry conversion rates are? What should the conversion rates for your ads be?
If you don't know the answers to these questions and you haven't set rate goals, you could be wasting money on your conversion campaigns. Without setting some benchmark goals, you may be running on a road but getting nowhere fast.
Setting benchmark goals for your conversion campaigns is an essential preliminary action to ensure you know what rates you are trying to achieve. Use industry benchmark data to set your goals and compare how you are doing against your competitors. These goals will act as guide posts to help you decide what to focus on and when to move on from testing and tweaking specific campaigns.
To help guide you, we put together a comprehensive Conversion Optimization Benchmark Report that lists the average conversion rates for the most important marketing channels such as landing pages, website forms, in-content CTAs, paid traffic (Google Adwords and Facebook) and email marketing. We also outlined industry-specific conversion rates as well since your rates will vary depending on the industry you service. You can download this report here.
Here are some of the key takeaways:
How are Your Landing Pages Converting?
Landing pages consist of opt-in pages, webinar registration pages, event signups, waiting lists, reservations and any other page that includes a scenario where you are requesting personal details from a visitor to capture a lead.
According to LeadPages, a good opt-in page can convert up to 20-25% while a good webinar registration page can convert at 30%.
However, your industry also plays a part. If you are in the travel industry, conversion rates top out at around 25%. But, if you are in the health or home improvement industry, your top conversion rates may be lower, around 11-15%.
Advertising Conversions
According to the benchmark report, the average conversion rate across all industries for Google Adwords search and display ads is 2.7% (leads and sales). How do your conversion rates measure up?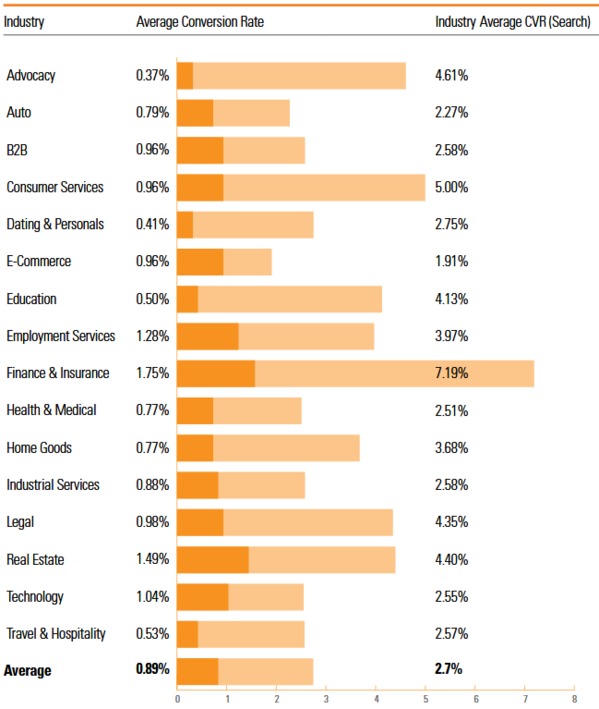 Keep in mind that advertising conversion rates are far lower than lead generation rates. The reason is because people who see your Google ads are also experiencing a flurry of additional ads and websites, and your ad is competing with these other pieces of content. With landing pages, users are faced with only one decision, whether or not to enter their information and click the call to action. Due to less clutter and more focused messaging, landing page conversion rates will be higher.
Your sales ads will also convert far lower than your lead ads. This is because with a sale, users are spending money, a valuable commodity, and with a lead, they are only giving you some personal information.
Running Facebook ads? The conversion rates for Facebook are a little different. The average conversion rate for Facebook advertising is 9.21% across all industries. Again, your industry will play a part in your rate. The fitness and finance industries convert higher than the retail and auto industries. To accurately compare your rates and set specific goals, research your industry rates instead of just relying on the total averages.
Get the Full Report Here
The first step to launching a successful conversion rate campaign is to set some benchmark goals to identify where you are headed and compare against industry averages. Otherwise, you may never reach your full potential and lose leads and sales as a result.
In our comprehensive Conversion Optimization Benchmark Report, we listed average conversion rates for both the top industries and different online properties. To get instant access to this report, click here to download it now. Happy converting!
On September 5, the Media Shower team is heading for Cleveland, Ohio, to attend Content Marketing World, one of the most exciting events for marketers of all stripes. We'll join thousands of other experts and professionals in this industry, and you should join us if you're able.
Here's why.
Hear Amazing Keynote Speakers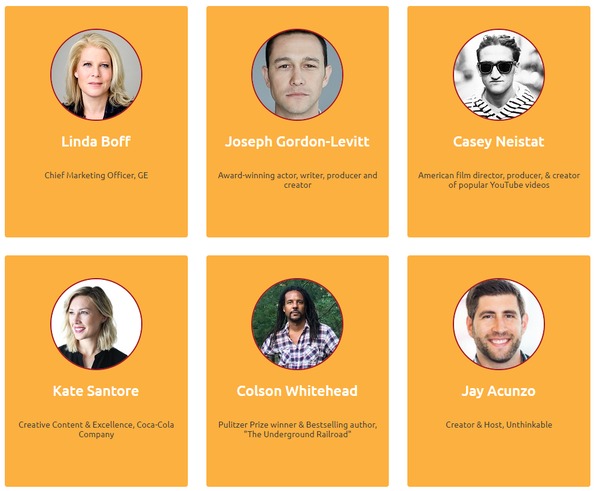 The 2017 lineup of keynote speakers.
If you're with us at Content Marketing World, expect inspiring, informative keynote speeches from GE CMO Linda Boff, actor Joseph Gordon-Levitt, film director Casey Neistat, and more. Content Marketing World takes from varied areas of the content-marketing industry, which ensures a diverse array of voices among the most coveted speakers.
From C-level executives to best-selling authors to podcasters, you'll learn from the best in the business. We can't wait to hear what these experts forecast for the future of content marketing and to learn from their failures and successes.
No matter what, we're bound to walk away from Content Marketing World with a few new tricks up our sleeves. You wouldn't want to miss out on that, would you?
Network with Other Content Marketing Professionals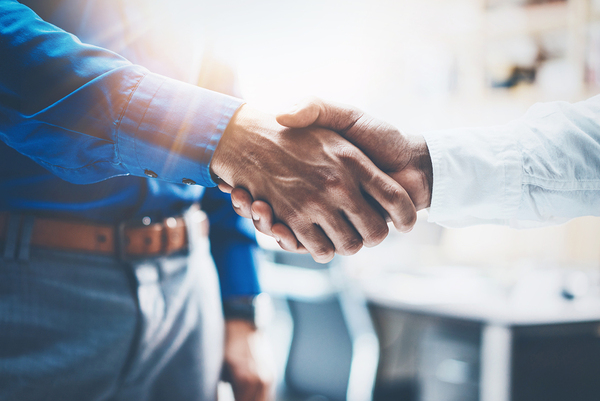 Who doesn't want to rub elbows with the best of the best?
Regardless of your industry or job title, you can always benefit from making new friends. We plan to meet as many new people as possible — people who can help and people whom we can help. That's the beauty of an industry conference.
In the content-marketing industry, we often find ourselves shielded behind various screens, communicating via email and Slack, rarely meeting face-to-face. We forget that eye contact and handshakes can make a perceptible difference in the ways in which we form relationships.
If you see us at Content Marketing World, please come up and say "hello." We can't wait to meet you.
Participate in Fascinating Workshops
We're always ready to learn something new, and workshops allow us to learn from the best of the best. At Content Marketing World, there are too many workshops to name, but we're looking forward to a few in particular.
Are you struggling to write good marketing copy? Attend the Marketing Writing Bootcamp with author Jonathan Kranz. Do you want to engage your audience with video content? Check in for the Video Marketing Workshop with Marcus Sheridan and George Thomas.
You have dozens of other opportunities to pick up new skills — and to pick the brains of people who have already achieved massive success with the content-marketing strategy you want to develop.
The Details
Content Marketing World takes place from September 5-8, 2017. If you haven't yet registered, you can register on-site for $2,495. That's for the all-access pass. You can also upgrade to a VIP pass if you want to get even more benefits from your experience at Content Marketing World.
We're counting down the days until we arrive in Cleveland, but we're also hard at work on our clients' content marketing needs. If you need expert-level copy for your business, Media Shower offers best-in-class service. To discover what we offer for yourself, get a free trial.